I got a special Liquidpoker.net exclusive treat for all of you regular readers. Today's interview is with probably the most feared No Limit high stakes cash game player on PokerStars. Yes you guess it, we get personal with the legend from sweden: H@££INGGOL. Before we start, I'd like to give a special thanks to LURPED for helping me get this set up.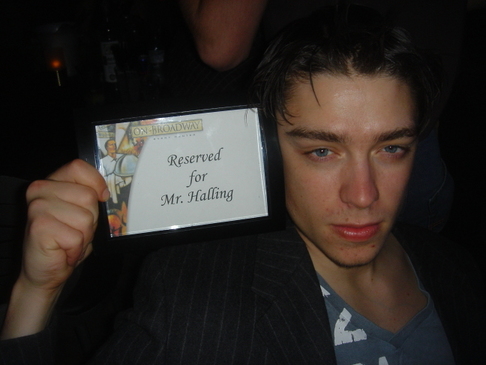 Name / Age / Location(s) / Poker ID and why you chose it?

Fredrik / 24 / Utköping (Sweden) / H@££INGGOL, I choose the name because they name all Italian strikers (in soccer) their last name followed by 'GOL' like Shevagol, Batigol, etc…

What do you currently play now?

Mostly NL Hold'em cash games $10-$20 and as high up as $50-$100...I like full and shorthanded equally good. I play mostly PokerStars but some Ultimatebet and Prima.

When or what started you off in playing poker? How were your early experiences in learning how to play?

Ok lets go way back like 12 years.... I had just changed hockey teams and this dude from my school who was playing in the team I was gonna start for asked me if we could carpool... I said yea and he asked if I was doin anything after or if he could come with me and we do something before the practice started. I wasn't doin anything so I said sure what do u wanna do?? we had a hard time to think of anything but he finally aske3d me if I've ever played poker and I said 'ya a lil 5 card draw', he said 'well me and a few guys use to play this game called texas holdem (remember 12 years ago not many had a clue) do u wanna try it?'... I said sure and we played NL Hold'em heads-up with 40 chips each only 1 blind (1chip) and after first week of pre-practice gambling I owed this guy 150 euro... ugh =(

He then asked me if I wanted to join him and his friends to play with them and I was a little scared but thought what the heck its kind of an addicting game so I cant really say no can I... first month I lost everything I had in my bank account and I was devastated when I had to go downtown and cash everything out and give it away(we paid at the end of every month) but after that I started learning the game and I realized my friends where really uncomfortable with my style of play. The next month I made it all back and since then I kept making good money in that game (10-15 guys) and I always had a little extra money on the pocket

Then a few years back (like 4) I ran into this girl at a club... Well, we kinda became a couple and she kinda hated poker more than anyone I've ever met... So for a few years I played very occasionally and mostly secretly. Well 2 years ago she finished school and she had nothin to do so she thought becoming a aupair student in England would be a great choice. I didn't agree. I told her if she was goin there than I'm gonna play as much poker as I want and when I want. So when she started school in England I put some money on pokerstars and thought I'd give the online poker a real shot. It turned out I was pretty good at it or that I at least received one of the winning accounts when I signed up.

How did you start off your online bankroll?

Well it's kinda interesting how I started my BR on Stars. After putting in 50$ a pop and loosing it at the $1-$2nl tables my friend (Dan aka Lyman Zerga let me borrow 200$). I was very short on money at the time and we where goin to a live tourney in a neighboring town, I had just enough for the tourney buy in but got knocked out pretty soon. I sold of $100 of what I had on Stars to be able to play in the side game, but after loosing that $100 on terrible beats I wanted too sell my last $100 as well since I had never won online and I was a consistent winner live. However my friend advised me against it and told me I should keep the $100 on stars and play when we got back to our town maybe my online luck would be better. We got back to our town and none of us had internet, so we got a guy to let us in at the college in our town where they have computer rooms. I wrote to PokerStars telling them how sick and tired I was of loosing online since I'm a winning player live and I think their software is rigged or something.

At the end of that night I had won 1000$. The next day I won a tourney for 3000$, and then the $11 rebuy for 6000$. Then I never looked back.

So what factors / skills / attributes got you to that level?

Well, poker is a battle of intelligence.... good memory / intuition and total disregard for money.... I can say I have good scores in at least a few of those categories.

Has there ever been a time when things just weren't going right for you while playing poker? What was your worst run ever and what did you do to get through these times?

Yea there was a time like this. From the end of the WSOP last year to the beginning of this year I was losing a lot mainly because after I went to Vegas, me and my ex split, and I felt like drinking everyday for the rest of the calendar year. But also, the cards where just fucking me over in a ridiculous way.

To get over it, I just played and played and played and then finally one day I felt the cards were all of a sudden turning I hit flops made sets draws etc and I ended up winning back everything I lost in a 4 month span in a three day session thx to loads of caffeine pills and Red Bull.

What do you consider is your biggest accomplishment in poker?

I'd like to think I am one of the most feared players on stars highest NL games and guess that'd be my biggest accomplishment thus far.

Do you have one memorable hand you would like to share?

Yea I have 1 hand that comes to memory. My first big bluff, and if I would've gotten called it would've been the biggest pot on Pokerstars ever... over $30k. It was a hand on $10-$20 full ring (9 players) me and halfrek are deep-stacked he has $20k I have $16k. Early position player raised to $80, I called in the cutoff with A8 of spades it's folded to halfrek in the big blind who makes it $400. First raiser folds but since we are so deep-stacked I decide to call and see a flop.

Flop comes: 10s 6d 2h

He leads out approximately $700, and for some reason I decided I was gonna win the pot. I flat called setting up a bluff on the turn. Turn comes Xs, so now I have a flush draw as well. halfrek leads out $1500, so I make it $4000. He thinks quite a while before making the call. River is a blank nothin and he checks… there's approximately $11k out there and I have $10-$11k left. I go all in and he lets his 120 second time bank run down to 0 before folding. At this time I had a bankroll of about $50k, so it was a big big bluff at the time.

So how do you fair in tournament play?

I used to be really good at it... but I've played so much cash game that I've kinda forgot how to play and also to keep focus in the smaller tourneys is hard when I lose more in 1 hand of cash game then I win if I win the whole tourney.

Who is your favorite professional poker player and why?

There are different categories I have a few favorites to watch(Hellmuth, Matusow, Hansen) and a few favorites to learn from(Ivey, Negreanu, Forrest)

The online world has great players that are not as well known as some of the professionals that get TV time. Are there any online players that you've played with that you consider to be real good? Can you name a few, and why?

Yea, there are a few really good cash game players that I know personally such as twin-caracas (who was a big player already when I started and complemented me and gave me a confidence boost) , my friend from sweden check_kills (whom I brainstormed with over a long time to form the style of play I use today) RaSZi (who bet faster than anyone I've seen in internet poker, and orders room service with great articulation) Nazgul18 (very tough position expert player) bet2win (stole a few of his signature plays a long time ago, like the always 4 times bb pre-flop raises)... TheTakeover, Ozzy87, Mahatma, lars magne, thorladen, green plastic, snake8484, etc etc etc...

I'd like to give it up for a few of my tourney donk friends such as: LURPED, Pbdrunks, SamEnole, and Premier whom I'm gonna share house with during this years WSOP… I hope they teach me a few tourney tricks.

What are some tips and tricks you can give out to the readers that might improve there games / build a bankroll? What do you suggest is the best ways to improve?

Play a lot a lot a lot a lot! There's no substitution for experience and it's the foundation of your intuition.

Any Shout-outs?

Well I wanna thank my mum and dad for giving me the right tools to be a successful poker player… I wanna thank my friend Heikki (IceTea on Pokerstars) for introducing me to the game, check_kills for helping me out with my game, Dan, Robin, Challe, Paj, Ante for letting me kill u in our live games... LURPED and pbdrunks for living in California... giving me a reason to visit the wonderful state... Mike Matusow for sponsoring me in my many travels around the world, paying tickets, hotel bills, etc... twin and bet2win for being there when u need it.

Pictures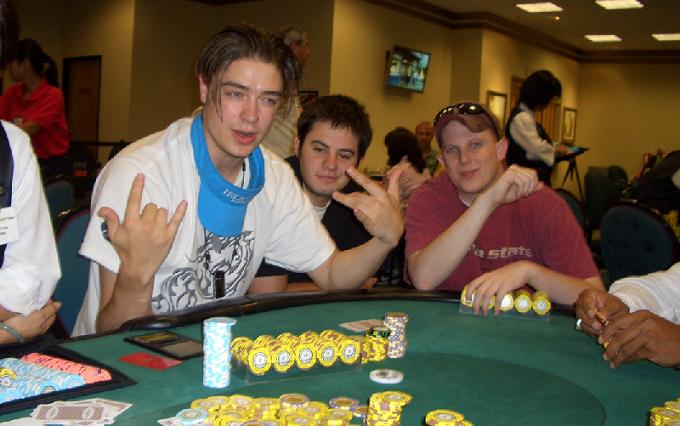 At the Bicycle Casino. H@££INGGOL with LURPED behind him and SamEnole to his left.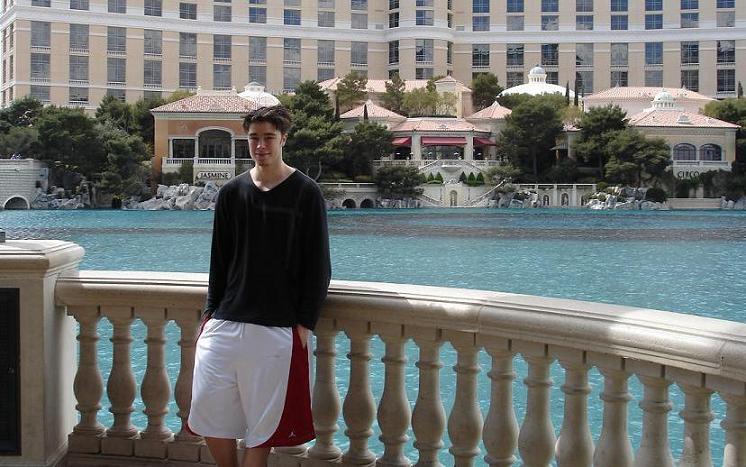 H@££INGGOL out in front of the beautiful Bellagio, and it's water fountains.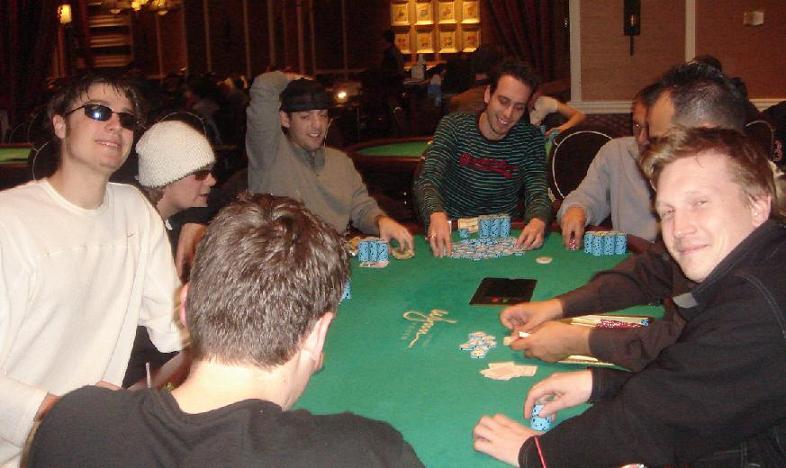 A cash game with some of online's finest cash game players. Clockwise from H@££INGGOL in the white shirt: check_kills, EmptySeat88 (Scott Fischman), RaSZi, TYRomper, The Dealer, Lyric, and Dbelhume (with his back to the camera).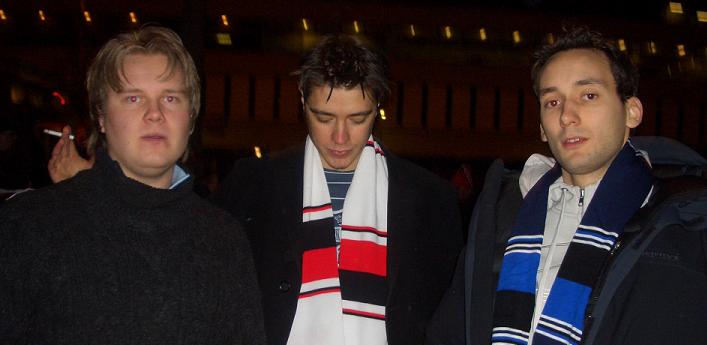 From left to right: IceTea, H@££INGGOL (after numerous bad beats), and Lyman Zerga