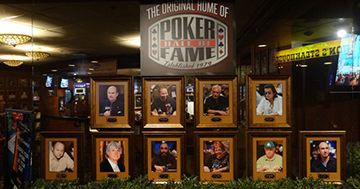 We know the names of ten people who will compete this year for having their names hanging on the Poker Hall of Fame. The group contains as always both players as well as people from the industry.
WSOP 2018 slowly focuses on the Main Event, that recently has started. We will however concentrate for a bit on other events than WSOP – the nominees for this year's Poker Hall of Fame. The winners will be announced July 13th.
This year two more players will join the ranks. They will have to meet the following criteria:
– compete with opponents who are also recognized in the poker world
– be at least 40 years old
– play high stakes regularly
– be respected by other players
– play consistently over the years
– for those who are not players themselves it is crucial to have changed the image of poker and the industry over the previous years.
In 2017 Poker Hall of Fame added Phil Ivey and David Ulliott to the list. These are the candidates for this year, 2018 are:
Chris Bjorin
This is a Swedish, 70-year-old player who resides in London. Live events brought him 5.7 million and two bracelets from WSOP. He won the tournaments back in 1997 ($1,500 Pot-Limit Omaha) and 2000 ($3,000 No-Limit Hold'em). Took second place four times, too. WSOP 2018 so far gave
...
read full article (1 comments)