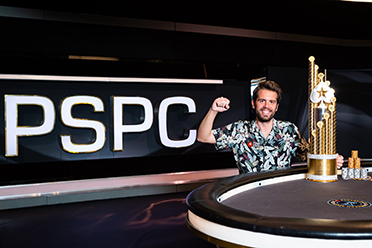 Ramón Colillas, Spain's very own Chris Moneymaker, today became a member of Team PokerStars, extending his incredible journey from fitness trainer to multi-millionaire to brand ambassador for the world's largest poker company.
Colillas grabbed global headlines last month when he beat more than 1,000 competitors including many of the world's most famous poker pros, and took home $5.1 million as the winner of the PokerStars Players No Limit Hold'em Championship (PSPC), the richest and biggest $25,000 buy-in tournament in history. The Catalonian had received a free buy-in into the tournament in the Bahamas by winning a PokerStars Platinum Pass package for his performances in tournaments across Spain.
Colillas will represent PokerStars alongside legendary players such as Daniel Negreanu and Chris Moneymaker, the man credited with sparking the modern poker boom when the then accountant won $2.3 million at the 2003 Main Event of the World Series of Poker after qualifying for the tournament by winning an $86 buy-in PokerStars online satellite tournament.
"I am honoured to join Daniel, Chris and all the members of Team PokerStars who I have admired as a fan for a very long time," said Colillas. "This journey has been a dream come true for me and I hope that I can inspire people the way that I've been inspi...
read full article (0 comments)