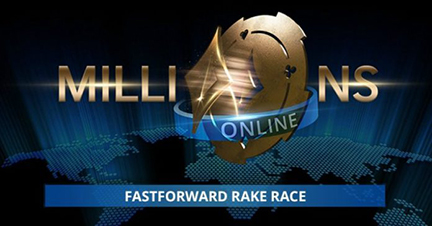 Starting from yesterday, that is September 20th we encourage you to join MILLIONS Online fastforward Rake Race. Thanks to it you can win tickets to MILLIONS Online with guaranteed $20,000,000. Do it now and join the tables over at PartyPoker.
Fastforward Rake Race – details
The offer is aimed at cash players who enjoy fastforward games. In the period from Sep 20th to 30th games at cash fastforward tables will earn you special points – $1 rake = 1 point. We are competing in three categories – LOW (NL5 and NL10), MID (NL25 & NL50) and HIGH (NL100, NL200, as well as NL500). Each separate leaderboard has individual prizes. Check them out below.
MILLIONS Online fastforward Rake Race – prizes
It all depends on what stakes you play. Those of you who choose LOW can win a ticket worth $530 to MILLIONS Online satellite. Best MID player will get two tickets like that. The HIGH leaderboard winner will scoop $5,300 ticket, that will enable him or her to fight for a share of $20,000,000.
In any case at least 100 players will receive prizes in each ranking. If you go further and play MID stakes then you can even be 200th and win. HIGH variant offers prizes to as many as 300 lucky players!
Place LOW MID HIGH