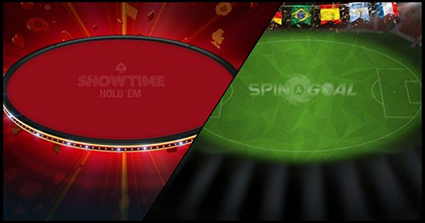 The biggest poker room online is lookin for ways to attract new players. Soon the platform will launch two new formats.
Previous months have not been so great for PokerStars. The company is criticized for cancelling EPT events and introducing PokerStars Championship (this year EPT returns). Raising rake was also met with players' protests.
Despite all the problems PokerStars still tries to widen its offer and rolls out new games. Several days ago they introduced Split Hold'em. It's basically just your ordinary Texas Hold'em, but players see two flops, turns and rivers, while the pot is split into two. To scoop both halves of the pot you must win on two boards. Currently games are available at limits from $0.02/0.05 to $10/20.
As it turns out, Split Hold'em is not the only novelty that PokerStars has prepared for its players. Portal Poker Industry Pro informed that PokerStars is working on new formats that soon will debut on the platform: Spin&Goal and Showtime. Alas, not many details have been revealed abot the mso far.
Information about the new games appeared on the Internet first April 6th. It was Anuj Arora, Poker Industry Pro affiliate who posted it. He tweeted that Spin&Goal will probably appear on PS around the time of this year's Football Championship in Russia.
What...
read full article (0 comments)