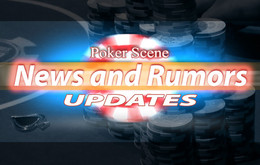 Jason Mercier wins 3rd SCOOP event in a week
Jason Mercier already made it into the news last week after he won 2 SCOOP events within a 3 day span, but that's not over - his hot streak continues, as he managed to take down 3rd tournament and earn yet another SCOOP Championship title in a week time.
Merciers previous victories include $2,100 NL 5-Card Draw and $2,100 Badugi and this time he decided to take a shot at $2,100 No Limit 4-Max event, which had a 398-player field.
After heads-up against Ryan 'HITTHEPANDA' Franklin Mercier managed to win $178,457.73 and secure the victory.
This puts him miles ahead of any other player in the Player of the Series rankings with 435 points (second player, Andy McLeod, has only 310 points) with just one week left of tournaments.
Phil Ivey starts in his own Chrysler 300 commercial
Just last month Phil "Polarizing" Ivey appeared in a brand new Chrysler TV commercial. He was listed as one of few Americans "who have created their own success" and now, people behind the commercial decided that Ivey was successful enough to have his own, full commercial.
"There's nothing wrong with being flashy, so long as you've done the work to back it up.", we can hear during the TV commercial.
Check the video here:
read full article (6 comments)