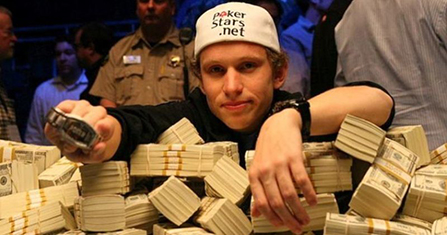 "This tournament does not matter to me anymore "–
said Eastgate in an interview with Bernard Lee. It's not that Peter isn't happy he won the event a few years back against Ivan Demidov, as the youngest champion of the Main Event at that time. After all he received over nine million dollars.
Eastgate says it was nice to travel in a poker t-shirt and promote the game especially because somebody was paying for that and he loved cards. – That was perfect life. I was doing what I loved and lived like football legends or rock stars.
Being the ambassador for a website that promotes and sells poker is a hard nut to crack for someone like Peter who loves cards, but is inrovertic and does not like interviews, so it wasn't always so great.
This probably caused what happened in 2010. Peter decided then to quit playing poker. Everybody was shocked as he left when contracts were coming from left and right.
The damned sports betting
Eastgate admits he has had a problem with gambling. he started betting big on sports.
– I played every weekend from 2009. Betting on every game and every match. 8-9 months of losing that cost me $500,000 or $700,000. I intended to bet even more on Football Championship in 2010 and set the limit at half a million, but eventually lost ...
read full article (5 comments)