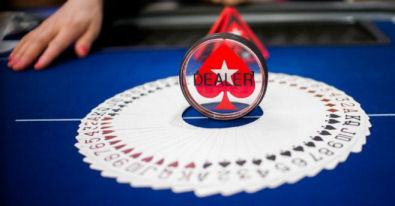 Win The Button" tournaments have today been added to the daily tournament schedule of the world's largest poker site, PokerStars.
The "Win the Button" format of No-Limit Hold'em, which has proved hugely popular at
PokerStars
sponsored live events, rewards the winner of each hand with the dealer button for the next round, a large advantage that providing an added strategic element to each and every hand. In the case of a split pot, the button moves to the winning player closest to the left of the existing button. The player on the button gets to act last, which is a major benefit at the poker table.
This format was played in event 59 of the World Championship of Online Poker (WCOOP) and was hugely popular. The tournament saw 'sousinha23' from Hungary win $104,284.57 from a $707,400 total prize pool. Find the tournament report at the PokerStars Blog here.
There will be 11 daily "Win The Button" tournaments with buy-ins ranging from $2.20 to $162. In addition, there will be two weekly 'majors' held on Saturdays; one $55 buy-in with a $25,000 guarantee and the 'Mini Major' with a buy-in of $5.50 with a $5,000 guarantee.
Team PokerStars Pro Jason Somerville who trialled the format on his popular ...
read full article (12 comments)