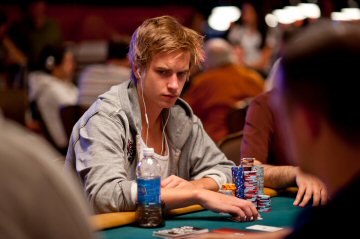 Looks like despite high stakes tables being removed from the FullTilt, where Isildur1 was a sponsored pro, young Swedish poker player is still doing awesome. And by saying awesome, we mean that Viktor "Isildur1" Blom just won over $1,000,000 in a single session.
On Tuesday Isildur1 took $1,088,684 from his oponnent, Sean "WithColor" Rafael, after a seven-hour long PLO battle.
During the session the single biggest pot was worth a small fortune as well, not something we see often any more, $274k. Blom won with flopped top set against the bottom two-pair from Rafael.
With this win Isildur1 is up by $2,394,338 in August and $2,959,608 in 2015 overall on PokerStars, while being down $1,367,244 on his FullTilt account. With $1,592,364 in combined winnings he is still the biggest winner for online high stakes poker in the world for 2015.
Unfortunetly, we don't know how Sean "WithColor" Rafael is doing overall this year, as he opted out from his results being tracked.
read full article (8 comments)