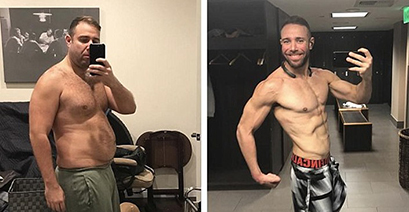 Jaime Staples, who is currently sitting at weight prop bet can take some motivation from another poker pro, 36 year old Walter Fisher from New York. Fisher, who was just broke, managed to win $1,000,000 after he successfully reduced his % bodyfat from 33% to just 8.8% in just six months.
The bet started in December, when Fisher weighed 245 pounds and was on a losing streak after blowing a $97,000 blackjack win in less than a month and then going in with another $100,000 in debt. Fisher told New York Post,
"I ordered double veal parms to the poker table; I ate full pizzas, I'd lose a bundle at blackjack and eat three or four superrich single-serving chocolate cakes. They had to have [had] more than 1,000 calories each. It was disastrous."
Fisher then accepted a $100,000 bet with a gambling acquaintance betting that he couldn't get his bodyfat under 10% in 6 months. To cover his $100k of the bet Fisher reached out to Dan Bilzerian and Bill Perkins for backing and the duo was happy to oblige. Before long there was $1m in wagers on the table, with Fisher standing to pick up over $500k himself if he managed to do the impossible.
Fisher didn't just win the bet, but he transformed completely by losing 70 pounds and dropping to just 8.88% bodyfat.
He also had solid help, with trainer Chris DiVecch...
read full article (15 comments)