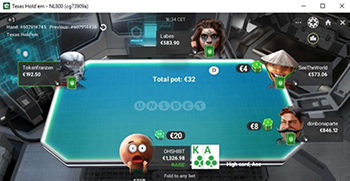 Games NL€800 and PLO€800 are not really referred to as "high stakes" though those were the limits considered 'high stakes' when Unibet introduced them in March 2017. Less than a year after their implementations some of the managment decided the games are "currently too rich for their philosophy" and have reduced the highest stakes back to NL€400 & PLO€400 maximum stakes.

The reason for the withdrawal of the bigger games, according to Unibet's Head of Poker David Pomroy, was that;
"The addition of NL800 and PL800 had contributed to short-handed games and slightly faster loss rates of recreational players at our higher stakes. Although the situation was by no means critical, we decided it was best to act on that trend sooner rather than later."

All is not lost, however, as Pomroy went on to say that Unibet;
"will consider restoring NL800 and PL800 in the future once we feel a sufficient support structure is in place." and that, "This decision doesn't change our long-term ambitions to continue growing the site but right now our focus is on ensuring that we continue to offer a non-predatory environment and the most enjoyable cash games online."