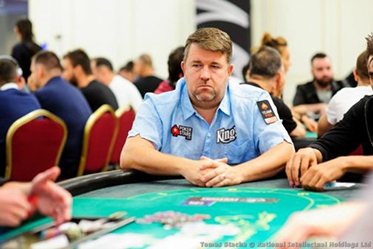 Chris Moneymaker became famous over one night when he won 2.5 million dollars. Chris Moneymaker talks today about how the WSOP Main Event money has changed his life and what he did with it.

There are many stories of people who won giganti sums and then lost it all. Some just cannot handle big wins and they become poor again due to terrible money management.

What about poker players? Those who win a big event one night and suddenly their account is wired with a huge quote. How do they handle pressure? Let's ask Chris himself.

[
From a simple accountant to millionaire
Chris Moneymaker is one of such people. Till 2003 he was living a good, simple life of an accountant. Then everything changed one day when he won WSOP Main Event and got 2.5 million for that. How did he handle his success? Has money changed him? He has talked about it in an interview he has given recently for ,,Independent".

"As the first person who won the event by qualifying through the net he was a sign of incoming poker boom. The world went crazy, people started playing and Moneymaker did nothing for the next five months. This is a good suggestion for everyone who wins that kind of a sum. "I put all the money in a bank. Didn't buy anything during this 5-month period. I remember I told myself: I don't want to blew it up – he says today. And he hasn't. From time to time we can see him with a PokerStars patch on a poker event, but these are rather tournaments below $1000 buy-in, not $50k" – we read further.

[bPeaceful life[/b]
Big money can mean big problems. When Moneymaker returned from Las Vegas home he already had 110 messages on his phone from people asking for financial help. "Personally I only knew one of them" – he says. Spending money on whims is also a trap some fall into. "If you start spending 20 thousand a month it's very difficult to go back to spending just 10,000. I didn't want that to happen" – says Moneymaker. And so for the next 6 months he was still working as an accountant. He hasn;t changed his circle of friends and didn't go to the dealer's for a new car (he still drives his old Buick, minivan belongs to his wife).

As far as poker goes he didn't change much either. "I had to keep refusing big cash games with really well-known people. I have nothing to prove. I cooperate with PokerStars and lead a life I have always wanted. I'm happy".

Simple life
At the very end of the interview Chris is asked if money brings happiness. "Money doesn't buy happiness, but without it your life can be very sad. When you have funds to settle your bills and buy things, everything becomes pleasant. I wouldn't like to struggle against the fortune to make sure my kids have food to eat. Me? I live a very simple life" – he replies.