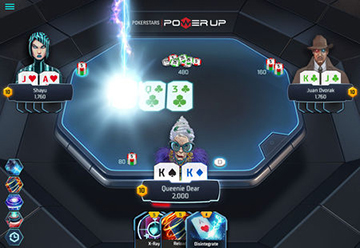 The long awaited and Power Up poker format has launched officially today at PokerStars with real money tables. The game combines computer game with poker. So far it's hard to say how we feel about it, so we leave the judgment up to you. Watch the video of game play and info-screen with special powers later in that news!

At PokerStars blog we can read:
The year 2047 is apparently going to be a wild one. If you don't believe me, just do a quick Google search. Doomsayers are saying we'll see singularity by then, the earth will hit the point of climate departure, and everyone will be just a couple of years away from whatever happens (no spoilers!) in Bladerunner 2049. So, yeah, it's going to be lit.
Fortunately, as of today, the folks at PokerStars are providing us with what 2047 looks like in their imagination. Poker is the same...but it's also wildly different. The story begins a little something like this...

Clean and renewable energy abounds, bioengineers have eliminated world hunger and the world remains connected at all times through Continuous Presence. However human nature demands competition which is satisfied through intellectual sport. The biggest of all of these, is Power Up. Key to its success and dominance are the nine powers, which require new strategies and approaches to be learnt to master the tactics for success.

This, folks, is the basis for Power Up, a new immersive poker game that turns normal traditional strategy on its head and gives players a chance to think about poker in a whole new way.

"Since the game's inception, we've been eagerly anticipating this moment and it's finally here," said Severin Rasset, Director of Poker Innovation and Operations. "The team have worked incredibly hard to produce a brand new game which, by utilizing our custom engine, delivers incredible mechanics and an engaging universe. We are immensely proud of this major innovation to poker and we hope our players love it as much as we do."

Most of you will find play money versions available to you today. Players on the .EU client should be able to play real money games. Other markets, including .com and .UK, should be online very soon. Keep your eyes peeled for stakes including $1, $3, $7, and $15.

Just one look at this suggests you might be in for a whole new kind of game.


If you don't have an account on Pokerstars yet and would like to start playing poker online and making money, you can create your account on PokerStars right away.

Full how to play guide can be found at PokerStars: How to play Power UP at PokerStars?