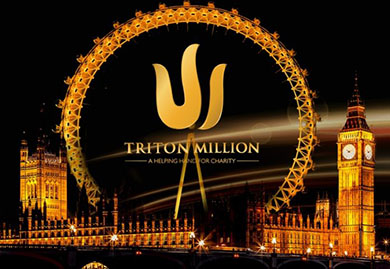 Triton Pokers SHR Series will come to visit London next month. The tournament will be ground-breaking for few reasons. Not only the tournament will seperate amateur players from pros for the first stages, but the rules now banned scarves, hoodie and masks which cover faces, approach that has plagued the live game recent during World Series of Poker.

The pros and amateurs will be separated for the first six levels of play when the tournament kicks off on August 1st, a redraw then pairing the tables in as balanced a way as possible.

Triton's new rules will be forced in £1million+ buy-in charity event – a star-studded field expected to descend on the Grand Ballroom of the London Park Lane Hilton with names like Tom Dwan and Phil Phua coming, while a TON of other famous top class players and enterprenours will take part as well.

The Triton clothing commandment reads: 'Players will not be allowed to cover any part of their body from the neck up. This includes, but is not limited to, wearing scarves, funnel neck sweatshirts, turtle-neck jumpers, sunglasses, hats/caps.'
It continues: 'The only exception will be made for sunglasses to be used at the TV tables due to lighting and hats that do not cover/hide any part of the face at any time.'
'Hoodies are not recommended to follow the rules above. A formal suit will be required to be worn at the Final Table (9 players remaining).'

The TDA has just held its annual meeting at the WSOP and introduced a Triton-like rule of its own: "Clothing or other accoutrements must not continuously obscure player identity or become a distraction to the game".

What do you think about those new implemented rules?