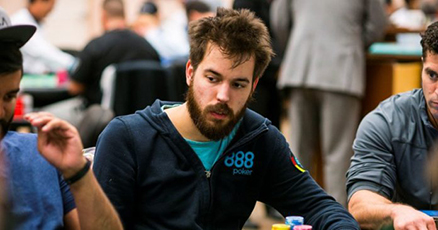 Most people find it hard to imagine a person who literally brings a million dollars with themselves to buy into a poker tournament. Dominik Nitsche decided to show exactly what fans want to see and he will reveal high roller secrets.

Nitsche shares his knowledge about HR tournaments very willingly. The poker player often talks about sponsors and book keeping when one plays events with high buy-ins.

This time German player decided to say a bit more and together with his sponsor – platform 888poker – as well as Van Cine Productions he works on a documentary that will reveal all details about the Big One for One Drop.

What can we expect?
Today we have many vlogs that make it easier for us to get to know the life of high rollers. Nitsche hopes his programme will offer something more.

– I thought I would like to do something similar and add my own experience to it.

Dominik Nitsche claims he wants to show how high rollers are organized, because fans usually do not have access to that. One of such things is how the money for buy-in that large gets collected.

– It's not easy to gather that amount of money when you have never won a tournament like that before. You need to ask all the people you know to help you out – said Nitsche asked by PokerNews.

– Our plan is to follow Dominik and depending on how far he will get in the tournament we will add new content – said his producer.

Unfortunately on the second day Dominik gave all his remaining chips to Justin Bonomo, so there will probably be only two episodes available afterwards.

We will likely have to wait till Dominik Nitsche shows what he's got, but the producer, Alex Konvyes has no doubts people will love it. Of course he has a real star at his hands, so it's not much of a surprise.

– In the world of high stakes games it's not so easy to see what really is happening. Not all players are so honest and open as Nitsche.