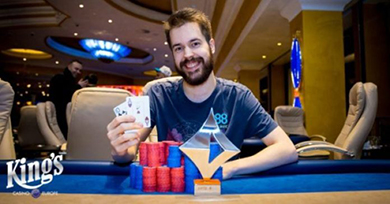 He's only 28 years old, but has succeeded in poker greatly and many older players can feel jealous of his achievements. Dominik Nitsche, because he is the one we are referring to, talks about the Super High Rollers.

This German player is one of those who dominate the game in these years. In live events he has won 11.83 million dollars. He has also been busy online, where he has cashed for more than 4.41 million. To add to his image we also have four WSOP titles. First from 2012 then two in 2014. He got the 4th one in 2017, when he won €111,111 High Roller for One Drop WSOP Europe. For that alone he got 3.48 million euro. In the middle of February he came victorious in €10,300 High Roller PartyPoker Live Millions in Rozvadov (300,000 euro).

Nitsche decided to say a bit about high rollers. He was asked in one of his interviews about what's more difficult: playing a large field or a high roller with tougher opponents: "Of course it's harder to win in a larger field. This is natural in poker. Super High Rollers are basically Sit&Go games. Yes, they are difficult, but even a losing player can win 5 of them. It's all luck and we cannot take samples from such events".

German pro added that people believe in some false stereotypes about Super High Rollers: "People who play Super High Rollers are usually those that play at the final tables of Main Events. They understand the game theory very well and are excellent at exploiting regulars".

In the further part of the interview Dominik Nitsche discusses swapping shares in super high rollers. Is it out of control? Does anyone know whose share who really has and how much? "I have played many events like that and I know that these guys, even when in private lives they are friends, is really serious. There is no soft play. If I behaved this way, it would immediately see the light of day. As far as I know no Germans were ever accused of collusion – he says.

Nitsche also commented on the re-entry problem: "Re-entry gives advantage to nobody. I see no reason, why we would have to limit it. Many recreational players gamble at the beginning more to build a stack. We should let them do it. The only issue can be the time they give for re-entry. It's too long."

Do you agree with his point of view?