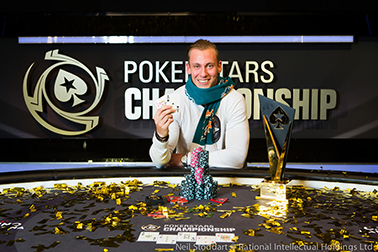 PokerStars Championship Barcelona featured over 50 tournaments including the largest live tournament ever held in PokerStars history, the €1,100 PokerStars National Championship with 4,557 entries. More than 21,300 entrants have participated at the festival, sharing well over €42 million in prize money.

Sebastian Sorensson from Sweden took home the title and a whopping €987,043 after outlasting a 1,682-player field in the PokerStars Championship Barcelona Main Event.

On his way to the pedestal, Sorensson came to terms on a three-way deal with the eventual runner-up Lachezar Petkov and PokerStars Championship Monte Carlo champion Raffaele Sorrentino.

From Lund near Malmö, the 27-year-old semi-professional poker player emerged victorious in the second live tournament he has ever played. Sorensson qualified for the Main Event online at PokerStars for just €215.

Sorensson's approach to the Main Event was taking it step by step. "When I arrived here and saw over a thousands of people on the first day, I felt so intimidated. Then I reached the second day, the third day, the fourth day and so on and I asked myself: 'What's going on?'" Sorrenson said.

"Do I continue working in a warehouse? I don't think so," he added, suggesting that he might turn into a full-time poker pro.

While Sorensson had been inexperienced on the live felt before his arrival, he remained the last man standing after a strenuous final table battle that saw the players reach the highest blinds ever in a PokerStars flagship live tournament.

"This is a completely different experience," Sorensson said, comparing the world's most prestigious poker scene to his first and only live tournament debut that he'd made two weeks ago back home.

"You have to be focused for many days and a lot of hours. It costs a lot of energy," he learned from his long stretch in the Main Event.

Sorensson became the third Swedish champion who conquered the PokerStars sponsored Main Event in Barcelona, following his fellow countrymen Alexander Stevic and Kent Lundmark who won the European Poker Tour (EPT) Barcelona Main Event in 2004 and 2010, respectively.

Sorensson beat Petkov in a heads-up match. Their stacks were shallow but neither Sorensson nor Petkov were willing to contest preflop all-in collision unless absolutely necessary. Petkov managed to double with queen-jack twice, with the latter double provided by the last card on the board that prolonged the match.

Despite Petkov's resistence, Sorensson eventually claimed all of the chips in play. He secured the trophy when they clashed preflop. Sorensson had Petkov dominated with ace-king over king-nine and an ace on the flop even strengthened his position. The turn and river didn't allow Petkov escape elimination and Sorrenson was crowned champion.

"It's a great result for me. I can't complain to finish second. To be here on the final table, it means I was lucky several times before. So the last who should have any regrets is me," a humble Petkov took his beat with class.

The final day started with the last six players left in contention for the title. United Kingdom & Ireland Poker Tour (UKIPT) 6 London Main Event champion Usman Siddique was today's first casualty. The 25-year-old Londoner lost a race with pocket sixes against Sorensson's ace-kings. Siddique picked up €252,000 for his sixth place finish, the largest payday of his career.

A long five-handed battle followed for the next few hours with the stacks getting shallow. The chip lead was swinging between the remaining contenders and several double ups prevented the final table from another elimination. Eventually, it was Team PokerStars Pro Andre Akkari whose fantastic Main Event run ended with a €317,960 payday for fifth place.

Akkari was all-in with a pair of fours against Petkov's ace-nine. A double-paired board counterfeited Akkari's pair to eliminate him from the contention.

"I want to say thank you for all the support I've received from the Brazilian community. Not just today but during the whole tournament. I've received a lot of affection from people I know but also from a ton of those I don't know," the 42-year-old from Sao Paulo said.

This was Akkari's fourth and best cash from EPT and PokerStars Championship Barcelona Main Events combined over the past few years. He'd previously finished in 32nd place in 2015, 61st in 2011 and 134th in 2014.

"I am proud of myself and the way I performed here. Thank you very much to everyone who supported me," Akkari added.

Brian Kaufman from Uruguay immediately followed Akkari to the rail, busting in the very next hand. Kaufman ran with king-queen into Sorensson's ace-queen and a he found no help on the board.

Kaufman, who won his seat to the Main Event online at PokerStars, collected €402,000 for his fourth place finish. His first trip to Barcelona saw him accomplish a fantastic double final table appearance. Last week, Kaufman secured €66,370 for an eighth place finish in the 4,557-entry PokerStars National Championship.

The remaining three players agreed on a deal, all locking up much bigger payday than what they were guaranteed for third place. PokerStars Championship Monte Carlo Main Event champion Raffaele Sorrentino was still in the mix, trying to take home his second title. The 37-year-old Italian declared several times during this week that he was going for the win and nothing else.

Sorrentino, however, couldn't make it to the throne again. He left the tournament in third place this time. He three-bet shove with ace-queen over Sorensson's raise with threes and the Swedish player called off. A blank board left Sorensson's pair ahead.

Sorrentino, who became the first ever double PokerStars Championship finalist, pocketed a very impressive €850,110 for his third place finish, by far the biggest prize of his exceptional career.

Players from 84 countries competed in the PokerStars Championship Barcelona Main Event, generating a monster €8,157,700 prize pool. The top 247 finishers were paid.

TEAM POKERSTARS PRO IGOR KURGANOV TAKES DOWN €50,000 SUPER HIGH ROLLER FOR €1,084,100
Igor Kurganov, who joined Team PokerStars Pro earlier this year, conquered the €50,000 Super High Roller for €1,084,100. The all-time winningest Russian player won his first title in a PokerStars Super High Roller, beating an 86-entry field in Barcelona. His partner, fellow Team PokerStars Pro Liv Boeree supported him from the rail during the final table.

"It's incredible! I'm so happy!" Kurganov said after his victory. Kurganov has been a powerhouse in the highest buy-in tournaments in the world since the establishment of the high roller scene. He previously came close to scooping the title in the EPT 10 Grand Final €100,000 where he finished in third place for a career-best €1,128,300.

Kurganov cut a heads-up deal with Polish player Bartlomiej Machon who secured himself a €858,700 payday.

"It's a fantastic result for me. This was the tournament with the highest buy-in I've ever played and I got the second place," Machon said.

Team PokerStars Pro Daniel Negreanu made it to the nine-handed final table as well, leaving in ninth place for €117,700. The star-studded finale featured Koray Aldermir Dietrich Fast, Ivan Luca, Chris Kruk, Bryn Kenney and Stanley Choi. The top 11 finishers shared the €4,129,290 prize pool.

PEDRO CAIRAT WINS LARGEST LIVE TOURNAMENT IN POKERSTARS HISTORY; BEATS 4,557-ENTRY FIELD IN POKERSTARS NATIONAL CHAMPIONSHIP FOR €432,178
The €1,100 PokerStars National Championship drew the largest attendance for a live tournament in PokerStars history with a total of 4,557 entries.

Pedro Cairat from Argentina emerged victorious in the massive crowd, taking home the prestigious title along with €432,178. Remarkably, it was his first time ever playing in a live tournament.

"I'm so happy, it's incredible," Cairat said with his face full of tears of joy. "My first tournament, my first victory!"

The 28-year-old from Buenos Aires relocated to Barcelona along with his sister Julia back in 2015. Then he quit his regular job and decided to pursue a professional poker career. Julia was on the sidelines during the final table, cheering for her brother.

Cairat came to terms on a three-way deal on his journey to the giant payday. The second place finisher Marius Gicovanu took home €372,349 while Bart Lybaert walked away in third place, earning €368,473. The whopping €4,420,290 prize pool was shared by the top 679 runners.