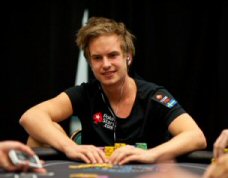 As you might have heard, Isaac Haxton was more than 600 hands deep into a big SuperStar Showdown against Viktor "Isildur1" Blom on sunday when his internet started going crazy. This wasn't helping the match and Haxton himself, as he was also down nearly $100,000 at this point to Blom. Under those circumstances the match was stopped.

Haxton now lives in Malta and had suffered some fairly serious thunderstorms that messed up the connectivity of his internet connection. According to the 3rd party informations, the storm was a serious matter in Malta, "killing one person and destroying homes, the gale force winds and record rains uprooted power poles and generally ran roughshod over the island." In that conditions Haxton's match might not have had the highest priority at that time.

Few days later life is back to normal on the island, and that includes a working internet connection.
Haxton still had 1,800 hands to go against Blom when the internet went dark, and at that point the match will be resumed - PokerStars announced the rematch will resume at 2pm EST (18:00 GMT) on Tuesday.

So, if you would like to witness some sick high statakes action - download PokerStars and login to watch the games!