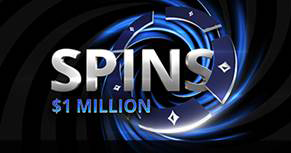 SIT & GO JACKPOTS rebranded to "SPINS" with visual enhancements at PartyPoker. Partypoker is celebrating the launch of "SPINS" with special edition "SPINS $1M" games, giving players the chance to become a millionaire in minutes for a $5 buy-in.

"SPINS" are a rebrand of the site's popular 3-handed "SIT & GO JACKPOT" tournaments, where players can win huge cash prizes for a relatively small buy-in.

The "SPINS $1M" edition features a random multiplier between 2 and 240,000 that is applied before a card is dealt to determine the size of the eventual prizepool – meaning players could be contesting a prizepool of up to 240,000 times bigger than the actual buy-in.

If the top tier multiplier is hit, players will find themselves vying for the first prize of $1M, while second and third place will both win $100,000.

As part of the rebrand, the new SPINS games feature visual enhancements and enjoy a smoother animation.

The table below illustrates the prizes that can be won in each $5 buy-in "SPINS $1M" game, which are all located under the "Spins" tab in the partypoker lobby.

Multiplier 1st prize 2nd place prize 3rd place prize Frequency per 1M games
240,000 x $1,000,000 $100,000 $100,000 1
1,200 x $5,000 $500 $500 6
120 x $500 $50 $50 20
25 x $125 200
10 x $50 1
6 x $30 15
4 x $20 218,927
2 x $10 764,846

You can create an account at PartyPoker with LiquidPoker by clicking on the banner below! Grab your 22$ in free ticketts, free PlayStation 4 and over 50% rakeback for grinders (more details: extra rakeback from LiquidPoker at PartyPoker)