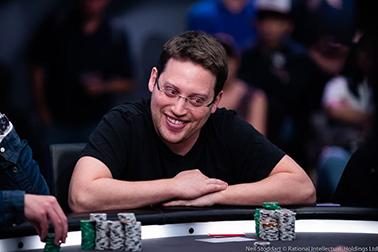 It has taken four days for the $25,000 PokerStars Players NL Hold'em Championship (PSPC) to reach a final table. Out of a record-breaking field of 1,039, just eight players now remain in contention for the trophy and $5,100,000 top prize. Including the $1,000,000 added by PokerStars to first prize, a total of $26,455,500 will have been awarded by the time one of these players is the last man standing.

FINAL TABLE LINE-UP
Seat 1: Jason Koonce, 36, United States - 7,125,000
Seat 2: Julien Martini, 26, Paris/France - 8,600,000
Seat 3: Farid Jattin, 30, Barranquilla/Colombia - 8,525,000
Seat 4: Talal Shakerchi, 54, London/UK - 5,500,000
Seat 5: Marc Perrault, 29, Blainville, QC/Canada - 2,275,000
Seat 6: Ramon Colillas, 30, Barcelona/Spain, Platinum Pass winner - 8,300,000
Seat 7: Scott Baumstein, 34, NY/United States - 10,725,000
Seat 8: Marc Rivera, 45, Philippines, Platinum Pass winner - 10,350,000

Of the nine Platinum Pass winners who returned today, two have made it all the way to the live-streamed final. Guaranteed at least $509,000 for their performance, they are part of an international Final Day line-up that reflects both the range of poker experience behind entrants in this unique event, and the global nature of the PSPC as a whole. From high roller regular Talal Shakerchi, to self-described keen amateur Jason Koonce, everyone who has made it this far now has a shot at making poker history.

Exiting before the close of play, but having turned a Platinum Pass into a huge cash prize, was Michael Robionek who, prior to winning his trip to the Bahamas, enjoyed playing freerolls on PokerStars and had under €100 in live winnings. He finished in 22nd place, winning $150,000. Fellow Pass-winner Pedro 'PaDiLhASP' Padilha busted in 10th place, winning $328,500. The same prize went to the longest-lasting female player in the PSPC, Canadian Kristin Bicknell, who busted in 11th, adding to her already sizeable $2.3 million in prior live cashes. Romanian pro player Florian Duta was eliminated in 9th ($405,000) to settle the final eight. Click here to view all payouts from the PSPC so far.

PCA HIGH ROLLER SIDE EVENTS AWARD MILLIONS
The first PCA Single-Day High Roller proved to be so popular that it outlasted the tournament room's opening hours. Attracting a total of 75 entries (25 of them re-entries), the $25,000 High Roller will finish paying out the rest of its $1,800,750 prize pool when Sean Winter and David Peters finish playing heads up later in the week. The winner will receive $495,210, and the runner up $352,040. Click here for full payout information from this event so far.

Many of the same players who warmed up in the $25,000 event – Isaac Haxton, Jean-Noel Thorel, Bill Perkins, Stephen Chidwick and Team PokerStars Pro Igor Kurganov to name just a few – took their seats in today's $50,000 Single-Day High Roller. Evan Mathis, former NFL offensive guard and Super Bowl champion, also leaped straight in after busting the PSPC in a respectable 35th place today (worth $86,400) and is, at time of writing, still in with 10 players remaining. With unlimited re-entry available, the final prize pool totalled $3,104,640 after 35 unique players made liberal use of that option. Currently led by Alex Foxen, this High Roller will award its winner $908,100.

Other recent side event winners include Michael Dyer, whose victory in the 356-entry $5,300 NL Hold'em netted him $336,670, and the duo of Felix Stephensen and Matthew Stout, who chopped the $1,100 Turbo for over $29,000 each.