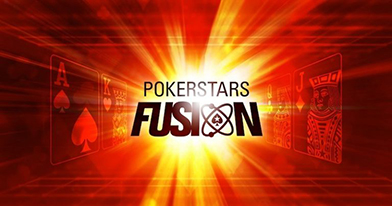 Team bringing you details about PokerStars latest innovation 'Fusion', a brand new, simple yet fascinating pot-limit hybrid of Hold'em and Omaha, as PokerStars claims.

In Fusion, players are dealt two hole cards before the flop, just like in Hold'em. The twist occurs post-flop when remaining players are also dealt a third hole card face-down, magnifying the potential for making bigger and better hands. On the turn, each player is again dealt another facedown hole card to complete their hand, finalizing the transition from Hold'em to Omaha.

Just as in all Omaha variants, each player must use exactly two of their four hole cards, which they will receive regardless of whether they are all-in before all cards are dealt. This has a massive impact on strategy, with equities running much closer together.

"We want to give our players games that they have never played before and bring a unique offering to the table," said Severin Rasset, Director of Poker Innovation and Operations. "Fusion mixes two well-loved formats together, giving an exciting twist to the game. We eagerly await player feedback and look forward to seeing everyone joining the tables and giving Fusion a try."

Fusion, a format which is a first for online poker, follows on from a variety of limited-time, cash game innovations released by PokerStars this year. The game is available now on .DK and will launch on .COM, .NET, .EU, .UK shortly.

Stakes start as low as $0.02/$0.05.

If you don't have an account on Pokerstars yet and would like to start playing poker online and making money, you can create your account on PokerStars right away.