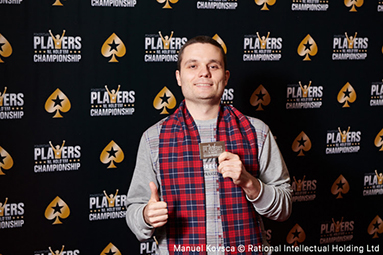 Amateur poker player Vyacheslav Bondartsev outlasted a 649-entry field to hoist the European Poker Tour (EPT) Open Main Event trophy, claiming the RUB 12,063,300 top-prize (approximately $184,000) and the title. The 27-year-old from Kazakhstan also picked up a Platinum Pass to the PokerStars Players NL Hold'em Championship (PSPC), valued at $30,000.

In the moments of his victory, Bondartsev could hardly find words to express his emotions: "I can't explain what I feel. I am proud. For Kazakhstan!"

Bondartsev came back for the final day second in chips but he faced off against some experienced rivals while his own résumé included only 14 results worth just over $45,000 combined. Bondartsev, however, prevailed in a tough competition and he ascended to the throne. His career-best result catapulted him into fifth place on Kazakhstan's all-time money list.

Bondartsev secured himself the Platinum Pass when he made it to a heads up against Evgeniy Leonidov who had already claimed his own Pass after winning the qualifier last longer.

Leonidov seemed to be marching all the way, starting the final duel with a huge 6-1 chip lead. Bondartsev, however, bounced back with a double and he continued narrowing the gap until he seized a slight lead. They came to terms on a heads-up deal and the battle continued with the stacks virtually even. Bondartsev won a huge coin flip, spiking an ace on the river to leave Leonidov with a shrapnel and the tournament was soon over.

"I am wearing my lucky scarf from a previous series," Bondartsev revealed before he expanded on how the added Platinum Pass affected his play. "It definitely influenced my play, I was playing tighter, expecially when we were three-handed."

Leonidov, who fell short of taking home the coveted trophy, pocketed RUB 11,258,700. He will also be headed to The Bahamas in January.

"For me, it doesn't matter how to win - in a flip or in a last longer. A pass is a pass!" Lenidov said about winning his package to the PSPC.

Third-place finisher Grigoriy Terpelyuk picked up RUB 6,360,000 for his efforts. Entering the finale with fewer than five big blinds, Vitaliy Avanesyan was able to ladder up two spots to land in fourth place for a RUB 4,878,000 payday. He outlasted Brazilian season pro Alexandre Gomes (5th for RUB 3,858,000) and Nikolay Fal (6th for RUB 3,006,000).

EPT Open Sochi Main Event final results:
1st - Vyacheslav Bondartsev, Kazakhstan, RUB 12,063,300
2nd - Evgeniy Leonidov, Russia, RUB 11,258,700
3rd - Grigoriy Terpelyuk, Russia, RUB 6,360,000
4th - Vitaliy Avanesyan, Russia, RUB 4,878,000
5th - Alexandre Gomes, Brazil, RUB 3,858,000
6th - Nikolay Fal, Russia, RUB 3,006,000
The 649-entry EPT Open Sochi Main Event field created a RUB 75,543,600 prize pool which was divided between the top 95 finishers. The Main Event field comprised of players from 26 countries and five continents with almost 80 % of the participants coming from Russia.