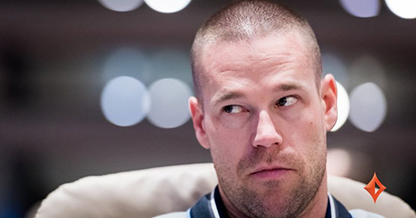 Finnish poker player has given an interview in which he talks about the poker image, healthy lifestyle and the role women have in poker.

Time passes by and such players like Gus Hansen and Patrik Antonius still do well in all sorts of events. They both appeared at PartyPoker Millions Barcelona, that took place at the beginning of April. Hansen prefered Open Face Chinese than events, but Antonius decided to join the tournaments and good score in €51,000 Super High Roller made him cross the 11 million he has won live.

During the breaks Fnnish poker legend also found time to give an interview to Italian AssoPoker.com.

Food is essential
The conversation started from the topic of good nutrition. Patrik supposedly said: "Seven years ago I discovered I was allergic to gluten, which complicated by diet. Now I have somebody who brings me food every day when I play events. I also eat snacks during breaks. Beforehand I was travelling with my own chef, but now I prefer hiring somebody in the place where I stay. It was not a problem in Macau, but in Barcelona, it was.

I try to avoid stress. In poker you have to take care of details. When at the table I don't want to focus and think of where and what I will eat. I must concentrate fully on the game, not food. We play 7-8 hours daily , and food has huge impact on the performance.

The way others see you
Then the conversation steered towards how people dress for tournaments and how the public sees poker today. Antonius is a very well-dressed man when he joins the table. Does it affect the opponents? Does it influence the image poker has? "I don't like what people think about poker players. Twenty years ago nobody knew what it meant to be a poker pro. They thought I was doing something illegal and that was it".

He explains that: "Not so much has changed since then. If somebody introduces me to a businessman, who doesn't know anyting about poker, he will think little of me. At the table we wear hoodies and caps. That does not do good for poker image. We are smart people and I would like to change something to show that we are good at what we do. We need to work to make people see who we truly are.

Women are great for poker
Asked about how women influence the game Patrik says: "Women are great for poker. As players they are very competitive, especially in Asia. In Macau plenty of girls play a ta very high level. You see 3 women here, 4 there at a single table. This is unusal. There is no reason why women should not be good at poker. Perhaps poker is better for those people who are not so emotional, but gender does not matter really. To win you just need strong character.

At the end of the interview Antonius says what he plans for the poker community: "I am working on a project that I cannot reveal yet. Next four months should bring some more news. All players will benefit from it, I think– he says. Can it be his own poker room live? In April last year he mentioned a bit about it.