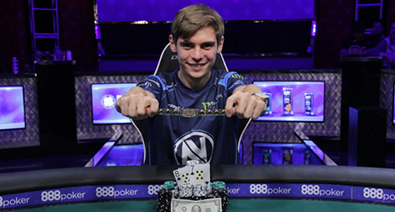 Fedor Holz is just 24 years old, but he is atop the poker hierarchy. Known as one of the best tournament poker players in the world, Holz has dominated High Rollers in the last three years. Here are 5 things you may not be aware as far as this talented German goes.

1. Last three years brought Fedor Holz 26.4 million dollars in live events. No one achieved a better result during that time. He has been winning 7-digit prizes six times. Three of those were worth more than 3.4 million each. Thanks to that he sits in the 5th place on the all time money list. Interestingly at the beginning of 2015 he had only $348,000 in winnings.

2. Biggest win for Holz was the $111,111 One Drop at WSOP 2016. German player came over the 183 player field and received $4,981,775 together with his first brcelet.

After that success he announced poker retirement, but still has managed to accumulate 8.3 million playing cards since then.

3. It's true that he withdrew from poker to focus on business. In 2017 Fedor Holz became o ne of the co-owners of e-sport team Envy Gaming. It includes players who participate in such games worldwide as Overwatch, Counter-Strike or Call od Duty. It is their t-shirt that Holz was wearing when he won the first WSOP bracelet.

4. In 2017 he also created a company that made Primed Mind – application improving your mindset. It was designed by Elliot Roe, who helped Holz break through back in 2015.

5. Fedor Holz was also responsible for charity that collected $50,000 for Casa Esperanza in Chile. The organisation helps people in need in developing countries. In 2017 Holz announced he will pay in $250,000 if others collect the same amount together.