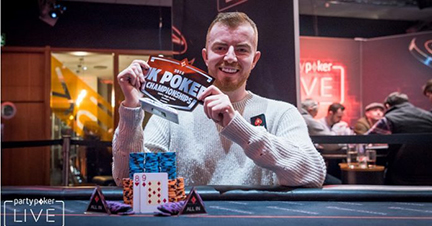 The British poker player commented on the event which he took part in a few weeks ago. Jake Cody risked a huge poker win and bet it all on roulette.

Poker players rarely appear in paper headlines or news on TV. For that to happen, they have to do something extraordinary.

A little over a month ago, the media reported about one well-known to us man. It's about the British player Jake Cody, who won in live tournaments 4.5 million dollars. He hit the top of the media not because of his poker achievements though, but thanks to luck in roulette. Shortly after winning the £2,200 High Roller UK Poker Championships and receiving a £42,670 top prize, the Brit went to play roulette. He set the whole win for black and thus doubled the money.

Cody was a guest of the Poker Central podcast and told us about his lucky roulette win. "It was crazy. A day later my phone almost "exploded". I thought, "God, what have I done?" I could not believe how big this matter was."

In the further part of the conversation, he mentioned the beginning of the roulette game: "I do not remember who proposed it, but I remember that it appeared as a joke, even before the tournament ended. Somebody suggested that I put it all on black. I said I would do it if I won the tournament. When there were eight people in the tournament, I had one of the smallest stacks, so I thought it was unlikely.

Then there were three of us, and I was a leader and everything seemed much truer. Later, Rob Yong [owner of Dusk Till Dawn] appeared and offered his participation [in roulette]. When I won [the tournament], I could not withdraw."

As soon as Cody took the money for winning the tournament, he immediately went to the roulette. "Right after the victory, guided by enthusiasm, we went to roulette. I must say that this is not my typical behavior, because I am not a degenerate compared to other professionals. Of course, I've always played [in casino games], but in general, I like to have an advantage. I rarely gamble, but I must admit that I have often made decisions in my life based on my whim to have later a good story to tell. And that was a good story indeed."

In the next minutes of the interview, Cody also mentioned moment when the ball was jumping over the roulette fields. Many people would be upset, but Cody kept cool. "To be honest, the thought of losing never ran through my head. I was not even upset. I was sure I would win. Of course, if I lost, I would feel like the biggest idiot in history" – he recalls.

Finally, Cody warned everyone who would like to repeat his bet. "Everything worked out perfectly for me. I knew that the recording is on social media. However, I do not want people to think that it is easy to win, that everyone can do it. Honestly, it was very stupid and I hope it will not be copied. I would do it again, but because I was ready to lose, even if I knew internally that it would not happen. I do not feel guilty because of my actions, but I want to have a professional image, not that of a gambling degenerate" – he concluded.