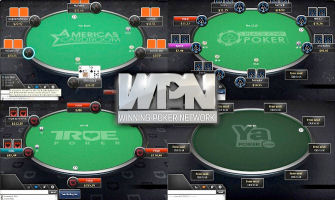 New year comes with new changes, to poker rooms as well - The Winning Poker Network (WPN) announced Monday that starting January 3rd, 2017, entire network will adjust how raked hands are counted in order to calculate loyalty points. The change is from the "dealt hand" system to the "weighted contributed" method.

In the previous, dealt hand method of calculating rake and loyalty points, rake in a cash game pot was attributed to every player who was simply dealt cards. For instance, if five players were dealt hole cards – regardless of how many players were actually seated (some could have been sitting out) – and the pot grew large enough to generate one dollar in rake, twenty cents in rake would be attributed to each player. This amount would then be used to determine how many loyalty points players earned, which is useful for things like VIP status levels and releasing bonuses.

In the weighted contributed method, poker players must actually put money in the pot to be given credit for any rake generated. This "contribution," as it were, can be voluntary as in a bet or raise, or can be involuntary, as in the small blind or big blind. Those who fold pre-flop and are not in a blind will not have any rake attributed to them as they were in the dealt hand method. Additionally, the rake attributed to each player is based on how much money they put into the pot compared to the other players, hence the "weighted" part of the phrase.

Using the same example from above, say there were five players dealt cards in a hand that generated one dollar in rake. Two early position players called pre-flop, the button folded, the small blind called, and big blind checked. Thus, four players contributed to the pot. If everyone checked down all the way to showdown, they all contributed the same amount and would therefore each be attributed with 25 cents rake.

The calculations change depending on how much money players contribute. If two of the players fold on the flop and two others keep betting through the river, those two that stay in the hand longer will have contributed more and will be given credit for more rake.

Clearly, this method is terrible for tight players who like to fold their way through a session, but is great for more aggressive players (and recreational as well). It is also good for the poker rooms, as it encourages action, driving up pots, and increasing rake.