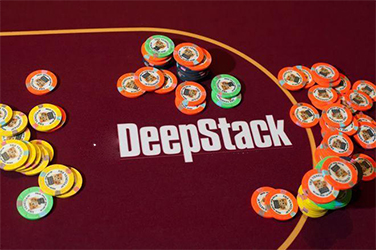 Tournament directors all over the world struggle to create something new for players bored with typical Hold'em events. They are working on variations and structures. Today we would like to present to you an article written by Matt Savage, renowned tournament director who organizes such festivals as World Series of Poker, Bay 101 WPT Shooting Star, and 2009 LA Poker Classic Main Event. Here's Matt explaining what in his opinion is good and what is bad about deep stack events:

"I've created many fantastic festivals in my life, but also some of the worst structures at charity events and made-for-television tournaments that have time constraints. My passion borders on obsession because I spend much more time than I should analyzing my structures and those of other tournament directors."

"Am I still to build a perfect system?" - Clu 2.0, "Tron: Legacy"

While creating structures in events many things have to be taken into consideration, such as where (which phase) you want to play, what the available tables are, what wishes the casino has and even how much tips dealers are to get.

As a tournament director Matt is often between the proverbial rock and the hard place, stuck between what players would like (more chips to play with) and what organisers are willing to offer. It's not easy when you believe something a bit else than masses demand from you.

"A sleep within a sleep.. Two levels?" - Yusuf the chemist, "Inception"

The problem Matt sees with deeper stacks is that the weight of the game is shifted to a different phase of the event. It's a simple quid pro quo really. If you allow players to start with bigger stacks you need to acknowledge they will play longer or you need to increase blind levels and/or eliminate some of them.

In a deep-stack tournament, you get a lot of room to manouver at the beginning, which allows you to take a bad beat, cooler or make a mistake and you can still continue. However, in the middle and late stages, you pay the price for all that because play turns into a lottery. It's not easy to accomodate a tournament with 10,000 starting stacks in the same amount of time as given for a 3,000 starting stack event.

On the other hand, it's great to have fun and many players enjoy deeper stack, because it's not so easy to get eliminated. Later on though they all suddenly become shorts when blinds go up faster than they would normally expect.

The final tables are also faster in deep stack tournaments and on average they take one third of the number of hands needed for the winner to emerge.

Of course Savage understands why so many players prefer deeper structures and he even quotes some of them saying: "recreationals like deep stacks and don't care about the later levels"; "amateurs like more chips."

Here is an intersting example from Matt. A typical $300 deep-stack tournament with 40-minute levels and 10,000 in chips for start:
Level Ante Blinds
1st Level - 25-50
2nd Level - 50-100
3rd Level - 100-200
4th Level 25 100-200
5th Level 25 200-400
6th Level 50 300-600
7th Level 75 400-800
8th Level 100 600-1200
9th Level 200 800-1,600
10th Level 300 1,000-2,000
11th Level 500 1,500-3,000
12th Level 500 2,000-4,000
13th Level 1,000 3,000-6,000
14th Level 1,000 4,000-8,000
15th Level 2,000 6,000-12,000
16th Level 3,000 8,000-16,000
17th Level 4,000 10,000-20,000
18th Level 5,000 15,000-30,000
19th Level 5,000 20,000-40,000
20th Level 10,000 30,000-60,000
21st Level 15,000 60,000-120,000
22nd Level 15,000 80,000-160,000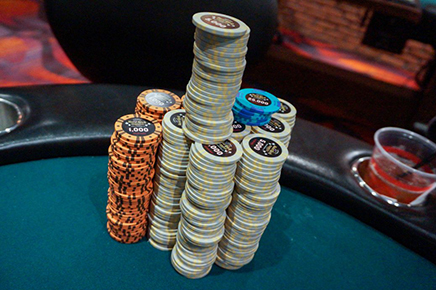 And here is the structure in place for the LA Poker Classic $300 event with 3,000 in chips (hour-long levels at the final table).

Level Ante Blinds
1st Level - 25-25
2nd Level - 25-50
3rd Level - 50-100
4th Level - 100-200
5th Level 25 100-200
6th Level 25 150-300
7th Level 50 200-400
8th Level 50 250-500
9th Level 75 300-600
10th Level 100 400-800
11th Level 100 500-1,000
12th Level 200 600-1,200
13th Level 200 800-1,600
14th Level 300 1,000-2,000
15th Level 400 1,200-2,400
16th Level 500 1,500-2,000
17th Level 500 2,000-4,000
18th Level 500 2,500-5,000
19th Level 1,000 3,000-6,000
20th Level 1,000 4,000-8,000
21st Level 1,000 5,000-10,000
22nd Level 2,000 6,000-12,000
23rd Level 2,000 8,000-16,000
24th Level 3,000 10,000-20,000
25th Level 4,000 12,000-24,000
26th Level 5,000 15,000-30,000
27th Level 5,000 20,000-40,000
28th Level 5,000 25,000-50,000
Above you can see that at the end of the 21st level in the deep-stack tournament, you are playing 80,000-160,000 blinds and in the regular structure it is only 6,000-12,000 (ante excluded for simplicity). It means you will be paying one tenth of the blinds from deep stack event and in fact play more despite three times smaller stack at the beginning (120 vs 200 BB).

The important thing is not to go crazy with stacks. Make a structure that will give you some time to play, but force you to do it eventually. It' poker, not chess for God's sake.

Deep-stack tournaments appeal to the masses, which is important as we need new blood in the game. Poker development revolves around recreational players who need time to learn the game and deep stacks give them a chance for that.

They also allow you to play more as you can take a bad beat or make a big raise and still stay in the game despite bad luck. Why use two bullets if you can do it with just one?

It is not necessary to make every event "deep stack" or "super freaking deep stack", but experimenting is definitely appreciated. The fact that there are so many different tournaments that players can choose the buy-in, location and structure they prefer is great. It makes poker more attractive for all of us.