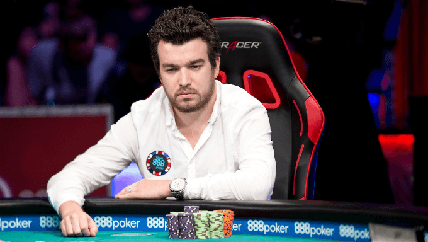 This is getting a bit crazy - Chris Moorman has won his 30th Triple Crown Online i nhis career. What else is there to add?

The Triple Crown (created by PocketFives) consists of winning three tournaments on different poker sites within a 7-day calendar period. Moormans managed to hit it this time for the 30th time in his career on partypoker, Americas Cardroom, and PokerStars.

The victories were not that spectacular as usual, but still a few thousand here and there: $5,970 at partypoker, $4,496 at Stars, and $14,125 at ACR. That also brings Moorman very short to $16mln won online in MTTs with a total result of $15,936,453.52.

Chris is aiming to hold onto the Triple Crown record, letting it be known via social media that he's aware that few younger guys are tring to go for his record. He tweeted: , Can't have any of these youngsters catching me up!"

Moorman's nearest oponnent is Nicolas "PokerKaiser" Fierro, who has 21 Triple Crowns under his belt and $11,893,317.05 in MTT scores. Fierro holds 1st in another category though - he is the best earning live tournamnet players of Chile with $1,766,800 in recorded cashes.

On the live felt, the Hendon Mob lists Moorman's lifetime earnings at $5,681,429. He's also in the running for nabbing a live Triple Crown, needing to win only an EPT title after having already secured victories at the WPT and WSOP.