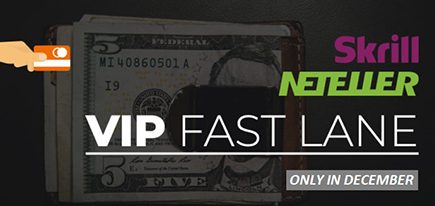 Skrill and Neteller are two most popular online wallets. Their advantages for poker plauyers are quite obvious. If you additionally have VIP status there, the fees go downs and it's easier to use the wallet. Still not a Very Important Person there? Check the VIP Fast Lane offer.

First piece of information is that the VIP Fast Lane offer is ONLY available in DECEMBER 2018. Why should you hurry? VIP status on the e-wallet means lower fees, higher limits and also other privileges.

Usually it takes a lot of money to be a Skrill and Neteller VIP and the status is approved for three months only. VIP Fast Lane is different. It greatly lowers what we have to pay in and after we meet the requirements the status stays active for twice the usual time!

VIP Fast Lane – details
All Skrill and Neteller users can get VIP Silver (Skrill) or VIP Gold (Neteller) between 1st and 31st of December. The status will be acive till June 2019.

All you need to do to get better status at Skrill is make transactions worth $9,000 between Dec 1st and 31st. VIP Gold at Neteller requires the same, but the amount here is $12,000. As a comparison keep in mind that Silver status at Skrill usually requires the transactions to reach €15,000, and we only get it for three-month period.

How to apply for VIP Fast Lane?
The offer is aimed at both new and present Skrill and Neteller users. After you click the banners below you will have an option to register or log in.

IMPORTANT: You have to be registered under LiquidPoker to take part in the promotion. If you are not and already have an account you can under our affiliate if:
- you dont have a VIP at the moment
- you didnt deposit any money in last 30 days to poker rooms
To get under us email me through contact for at the top of the site with your skrill email and user ID.


If you are eglible just click on those links (new accounts apply as well):
Skrill


Neteller


If you still do not have an account at Skrill or Neteller, then click "Register to apply". Otherwise just use "Login to apply". All you need to do afterwards is reach the required amount. VIP status is going to be yours for next 6 months!

What are the privileges?
Higher limits in the account and lower fees
Sending money for free
Better exchange rates and multi-currency account
Free Mastercard® credit card
Exclusive offers and events for VIPs
You can read the details about VIP Silver at Skrillu at VIP Gold at Neteller at the respective operators' websites.