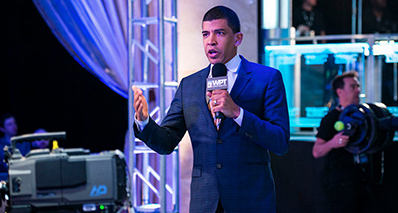 The American Adam Pliska has been supervising WPT since 2009. He has worked for them for 15 years already. Under his management World Poker Tour has really flourished. Who is one of the most influential people in the poekr industry?

In live poker there are three series which play the biggest role on the market. They are World Series of Poker, European Poker Tour and naturally World Poker Tour. The last one as you know is led by Adama Pliski, who has been a director since 2009. The owners of WPT decided that a good manager, who proves his worth should keep his position and so they renewed the contract with him till 2022. Adam Pliska is responsible for everything that is related to WPT; tournaments, tv broadcast, online products and services as well as strategic partnerships.

As we can read in WPT statement: when many poker tournaments have failed, Pliska strengthen WPT, and supported the whole industry. He signed important agreements and enlarged the company, as well as created good relationship with other operators. During the first five years Pliska increased the number of WPT tournaments from 14 to 70. Currently WPT is present in more than 150 countries. Content from WPT can be viewed in five continents, and thanks to TV and internet it is watched by 100 million fans.

Who is Adam Pliska?
Adam Pliska is 46 years old, and he has worked in WPT since 2003, when he was a counselor. Before he got into poker he was selling T-shirts. Thanks to the money he could study at the University of Southern California. His major was filmography and after that he worked with Al Burton. Pliska had talent. For ,,Win Ben Stein's Money" he even got an Emmy award.

After his episode on tv he studied law at the University of California in Berkeley. When in 2009 Bwin.party bought WPT from Steve Lipscomb. Pliska became the president of the company. Sis years after that he changed the management. Ourgame bought WPT for 35 million dollars. CEO of Ourgame Frank Ng says that Pliska undoubtedly helped WPT to expand on new markets and improved its digital offer.

In 2014 Pliska also received American Poker Awards. Thanks to Pliska WPT broke the sum of 1 billion paid out to tournament players. It happened during the WPT Main Event Legends of Poker 2017.

"This is an honour for me that I will be able to keep on leading the great company. I can't wait to continue the strategy that has developed our firm and the whole industry. I beleive the full potential of World Poker Tour is still to be unlocked" – says Adam Pliska.

During his career World Poker Tour also launched WPT foundation. Thanks to their charity tournaments they were able to collect 11 millions for over 30 charities all over the world.

Among the sponsors attracted by Pliska we have the producer of luxurious watched, Hublot, FOX Sports tv, JetSmarter airlines, Zynga Poker, Dr Pepper and Monster, company that produces headphones.

In the last years World Poker Tour is developing dynamically. In April 2014 the y started cooperation with DeepStacks Poker Tour and launched WPT DeepStacks. In January 2017 WPT bought WPTDS. In May 2016 they started LearnWPT, platform where one can learn poker strategies. In August 2016 they launched PlayWPT, virtual WPT games on play money.

Previous years were very good for WPT as their tournaments had their debut in Japan, Brazil, Urugway, India, Cmabodia, Thailand, Germany (Berlin), and in May this year they will also be present on New Zealand.