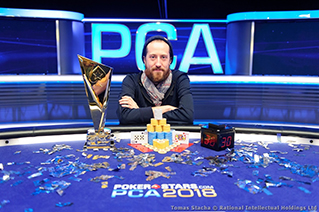 Putting money on Steve O'Dwyer has become almost a sure bet in high roller events around the world. The 35-year-old Colorado-born poker pro pulled off his winning formula yet again today in front of the PokerStars TV cameras. Representing Ireland, O'Dwyer took down the PCA 2018 $50k High Roller, collecting a sweet $769,500 winner's check.

O'Dwyer has a remarkable record in this event that debuted in 2016. He's now two out of three, having won the inaugural edition as well.

"I had a few good years here in The Bahamas. No complaints, it's fun to win," said O'Dwyer, whose showcase also features the PCA $100k Super High Roller title from 2015.

O'Dwyer started the six-handed final table third in chips with the chip leaders to his left: "I would've been happy with third just because I was out of position against the two big stacks and everybody else was so short," O'Dwyer admitted that he initially set his bar a little lower.

The spread of chips and unfavourable seat order put O'Dwyer in a tough position, tying his hands in certain situations but he dealt with the obstacles in his typical fashion, walking away the champion.

"I have a lot of spots where I have to fold to get to the third place. But it worked out," O'Dwyer added.

It helped that the start-of-day chip leader Byron Kaverman dispatched micro stack Orpen Kisacikoglu early. Kaverman then three-outed Benjamin Pollak on a river, again to the relief of those in the middle of the pack.

O'Dwyer then busted Erik Seidel in a blind-versus-blind clash when his king-five bested Seidel's king-four.

For some time, it was O'Dwyer and Kaverman who were swapping the lead back and forth. Jean-Noel Thorel then scored a huge double in a flip against O'Dwyer, claiming the lead himself.

Down to ten big blinds, O'Dwyer slowly increased his stack through several uncalled shoves. Ultimately, Thorel provided O'Dwyer with a full double, bet-calling with king-high a flop. O'Dwyer had hit a six, and his hand remained the winner. O'Dwyer soon got the most of Thorel's chips with a huge value-bet with rivered trips.

Kaverman seized Thorel's remaining shrapnel, eliminating the 70-year-old entrepreneur in third place for a $339,480 payday and setting up himself for a heads-up match against O'Dwyer.

"It was a unique final table I think, a few different styles. Jean-Noel Thorel is a French businessman that's been around for a while. We'played a lot with him. He's an awesome guy, he's super fun to play with. He has a unique style, he really splashes around and makes things difficult. He played great and we were battling three-handed for a while," Kaverman described the dynamics of this final table.

Kaverman had a slight lead coming into the heads-up battle but it was O'Dwyer who started pulling the strings right away. He swept the first five hands, immediately establishing a giant lead.

Kaverman tried to fight back but he couldn't stop O'Dwyer's momentum and after 131 hands on the final table, it was all over. Kaverman picked up $531,860 for his efforts, besting his third place from last year when he collected $452,220.

The $50k High Roller finished just before the Main Event players bagged. We'll surely see the champion in action tomorrow.

"I've missed Day 1 totally but I've got my ticket in my pocket," O'Dwyer confirmed.

PCA 2018 $50k High Roller results:
1st - Steve O'Dwyer, Ireland, $769,500
2nd - Byron Kaverman, USA, $531,860
3rd - Jean-Noel Thorel, France, $339,480
4th - Erik Seidel, USA, $260,260
5th - Benjamin Pollak, France, $203,680
6th - Orpen Kisacikoglu, Turkey, $158,420

There were 46 entries (including 15 re-entries) to the PCA 2018 $50k High Roller. The six finalists split the $2,263,200 prize pool.