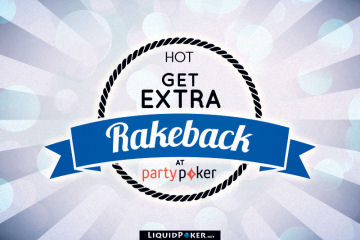 No more hiding - we are proud to say we can offer extra rakeback deal to all our players at PartyPoker!

Besides the standard deal on the poker room we can a offer a solid extra rakeback on top of their regular VIP system (which gives up to 25% return for high raking players). And this is of course on top of free $20, first deposit bonus and free PlayStation 4 of course!

The deal varies on how much rake you make obviously - the higher, the more % return you will get, but if you rake as low as even $30 per month - you are still welcome to join and grab the extra value you would normally miss.

With various poker rooms limiting their offer for the most hardcore grinders PartyPoker is the place to be now - with this offer few of our members has been steadily hitting 50-60% rakeback total in last months, which is without any discussion, the best offer at the market now, especially on a poker room that still uses fair rake calculation method.

We have to mention - if you already have an account at PartyPoker, but didn't use it actively, send us a message and we might figure something out so you could use this offer as well.

If you would like to read about regular offer that is available to LiquidPoker users check out this link: Exclusive PartyPoker offer for LP.net. Use the same link for registration instructions.

To find out how much % extra rakeback we offer - either write a simple "Party rakeback" private message to me (use this link) or write through our contact form - by using this link.