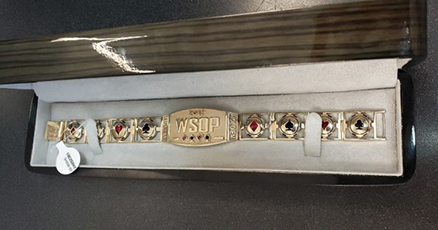 Auction platform eBay sold a World Series of Poker bracelet that was won just last year.

Bracelets won at WSOP are put on sales very rarely as most of the players treat them as a memorial. Until now as many as 1,074 poker players won that coveted trophy. Only a handful of them decided to sell.

Player who decided to do it is Joseph Di Rosa Rojas. This poker player comes from Venezuela and won his WSOP trophy last year. Di Rosa Rojas scooped the trophy in The Marathon. Entry fee was $2,620 and it was paid 1,759 times. The final table included among others such players Faraz Jaka and Maurice Hawkins. Joseph received $690,469 for his win and of course the aforementioned bracelet.

For some time now he has not been in possession of the lovely jewelry piece. He decided to off it on eBay for $3,000. Chad Holloway from PokerNews.com tried to establish why the decision to sell, but he was unable to get straight answers.

He got into contact with the seller and heard that: "It was bought by a shop from The Strip in Las Vegas. It buys a lot of electronics. He came to me and said his brother got it. I thought it was cool and as I had some pistols to sell we exchanged. He could not tell me who sold it to him as this was a secret" – this is what the journalist heard from the seller nicknamed "forloveofthegame".

Other WSOP bracelets sold
Other players in the past also sold their bracelets. In 2017 Tom McEvoy, four time WSOP champion and 1983 Main Event champ sold his on eBay. The price was set at $13,500.

Another one flogged in 2017 came from Max Pescatori, anpther four time WSOP champion. His trophy came from 2015, 7-Card Stud Hi-Lo 8-or-Better with $10,000 buy-in. Money collected this way was given to victims of an earthquake in Italy.

In 2010 Brad Daugherty, Main Event 1991 champion sold his trophy. The price was 30,100 although the seller wanted more for it.

Peter Eastgate sold his jewelry piece from the 2008 Main Event for as much as $147,500, and money was sent to UNICEF.

T.J. Cloutier, six time WSOP champion won his last one in 2005. When it was put on auction a poker room known as Cake Poker bough it for $4,006. Afterwards the company gave it back to T.J. Cloutier.

Some people sold the bracelet they bought from Paul "Eskimo" Clark, who won it in 1999. The highest bidder paid $4,050 for it.

Back in 1999 Hassan Kamoei tried to sell his for $3,800, but no one decided to pay him that much.