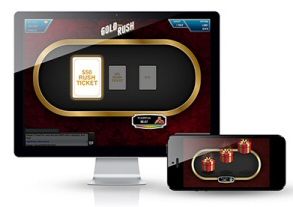 A Gold Rush is set to get under way at Rush Poker ring game tables from Friday, December 19th through January 1st, 2015.
Each time a player contributes to the pot at a Rush Poker ring game, they have the chance to be whisked away to the 'Gold Rush' table – a new feature exclusive to Rush Poker – where they'll receive a random 24-carat prize.
Ring Game Tickets, Full Tilt Point bundles and up to $10,000 in cash are all up for grabs, as well as tickets to $2,500 and $5,000 Gold Rush Freerolls, which are Rush Poker Tournaments with a Flipout Tournament format.
Those who sit down at play-money tables have no reason to feel left out – they can snag up to 1,000,000 Play Chips if they find themselves at a Gold Rush table.
"Rush Poker is innovative, action-packed and has been crafted with poker players in mind," said Full Tilt's Managing Director, Dominic Mansour. "We've launched Gold Rush to add another important feature to the Rush Poker experience – rewarding players for doing what they love."
To find out more, visit:
www.fulltilt.com/promotions/gold-rush
If you would like to create your account on FullTiltPoker and start making money by playing poker, you can create your account right now using this link.
read full article (2 comments)