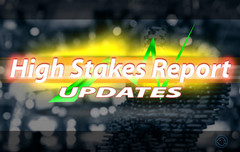 Last few weeks were very good for Patrik "FinddaGrind" Antonius, especially after a rought start of the year, when online forums started to question if Patrik is still able to adapt to new games fast enough. Patrik became the biggest winner of the week, finishing it up with a $957,123 profit - majority of that money came from a $466,5k win on the last day of the week. Antonius is now up $1.3m in last 2 weeks and back in profit for this year (+$773,5k at the moment).
Daniel "jungleman12" Cates takes second place with 3,356 hands played and $512,420 in his pocket. Cates won most of the money from two heads-up matches in 8-Games against Hac "trex313" Dang and Niki Jedlicka. RealAndyBeal places on spot number three with $204,749 made, which being quite far behind first two players on the list, is still an amazing score. Gus Hansen also managed to hit a nice score, earning $198,627 - that still leaves him as the biggest loser of the year though. Kanu7 is the last man on top 5 with a +$149k score. OMGClayAiken, Exclusive, Tight-Man1, proudlikeagoat and Sauce123 close up the list.
On the other side, we have Phil "Polarizing" Ivey on the top of the ladder and way ahead of all his competition. Phil Ivey lost $755,042, which is over $500,00 more then the second player on the list of weekly losers, MalACEsia, who dropped $248k while pl...
read full article (0 comments)