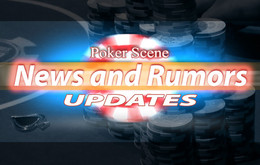 US Navy commander fired for cheating at poker
Vice-Admiral Timothy Giardina is most known lately for embarrassing the American Army with a string of public scandals, one of which was counterfeiting poker chips. Giardina has now lost his job as a top Navy commander after he was accused of making fake poker chips and trying to use use them in various casinos. If you don't understand how serious this man position was - let's just say that he was number two in command of America's nuclear arsenal.
Documents unveiled under a Freedom of Information Act request depict him as an regular and probably addicted poker player. He spent more than 1,000 hours at the Horseshoe's tables in the 18 months before being caught trying to get the fake chips into the game in June 2013.
The $500 fake chips were in reality genuine $1 chips from the same casino with fake $500 stickers glued on them.
PokerStars named 2014 poker operator and mobile poker operator of the year
PokerStars has been selected as the 2014 best 'Poker Operator' and best 'Mobile Poker Operator' by eGaming Review magazine. The prestigious awards were presented in London on Monday night..
"We're very proud to be acknowledged by eGR and the expert judging panel for our success as the leading ...
read full article (5 comments)