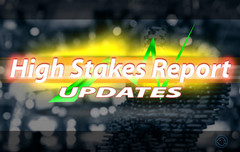 This was a big week on high stakes: after a long stagnation due to WSOP 2014, we are back with solid amount of action and two players with almost a $1,000,000 in winnings each. First place belongs to SanIker, who played 4269 hands and earned a stunning $952,844. SanIker had an insane run at Full Tilt Poker's 2-7 TD tables with a single $550k day on last Friday, during a 6 hour long session at two $2k/$4k tables, playing against Isildur1, Trueteller, samrostan, and Kagome Kagome.
Isildur1 is the second player on the list, with $910,383 in green after a solid week of work with 14068 hands played. He started the week very strong, winning $247.7k after a very swingy Tuesday: most of his day he played heads-up against a new name on nosebleeds, AthaCliath. Both gentleman clashed at the TD and 8-Game tables. Isildur1 continues to play solid through entire week, finishing it with a $420k day on Sunday after session at 2-7 Triple Draw and a big win over punting-peddler, where he took $227.4k.
noobmare is our third player on the list, winning $227,838 in just 1261 hands. Most of that cash is a courtesy of $50/$100 PLO tables, where he played heads-up against Aku1206 and then d2themfi.
AthaCliath is one of the players that created most of the action on the nosebleeds in the past week, and the man himself made it to fo...
read full article (7 comments)