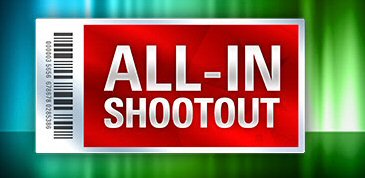 PokerStars is giving away $150,000 in three $50,000 All-in Shootouts on August 4, and it's never been easier to secure your free tickets! Each All-in Shootout will award $5,000 to the winner, and you
don't even need to be present
to be in with a chance of winning, as all players who have registered in advance using their ticket will be all-in every hand until there's a winner.
Wherever your holiday plans take you this July, you can always join in the fun with PokerStars, available on everything from your laptop to your mobile and tablet.
How to claim your All-in Shootout tickets
Deposit $10 or more before 23:59 ET on July 31, using ONE of the bonus codes listed below, to claim up to three All-in Shootout tickets. As soon as you have earned the required VPPs, your All-in Shootout ticket(s) will be instantly credited to your account. Use your ticket(s) to register for the All-in Shootout(s) taking place at 14:05, 15:05 or 16:05 ET on August 4, each awarding $50,000 in cash, including $5,000 to each winner! You can find the All-in Shootouts in the
PokerStars
lobby under 'Tourney' > 'All'.
...
read full article (2 comments)