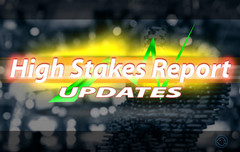 This is quite a start-packed list, looking at our ladder of best earning players. Basically every player is well known and showed solid high stakes results for a long period of time - that only shows how intensive the games were during last week.
Patrik "FinddaGrind" Antonius leads our weekly list after winning $431,786 in 1334 hands. Patrik had a very good end of the week, winning a bit over $324,000 on just Saturday and Sunday, mostly from 8-Game tables.
Second place is taken by Isaac "luvtheWNBA" Haxton. His score comes almost exclusively from the beating he gave to Denoking for $346k at $300/$600 NLHE. Viktor "Isildur1" Blom closes top 3 making $288,441 in 7667 hands. The list continues with famous players and Crazy Elior takes fourth (+$252,462), while punting-peddler made it to fifth spot (+$199,868). w00ki3z., Educa-p0ker, jungleman12, Exclusive and Jeans89 are the remaining players on the list.
Gus Hansen, despite winning $388,5k on the weekend, still managed to finish as the worst players of the week, dropping stunning $1,023,931 after 107 sessions and 14967 hands! Many people around on forums are asking if there will finally be a stop to this - at this peace, Gus will reach $20,000,000 lost playing online poker in next month! He's sitting currently at $19,790,619 lost lifetime...
read full article (11 comments)