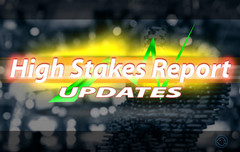 Gus Hansen doesn't always have a good week, but when he does he makes $1.3 million. After having a long stretch of disastrous results, Gus Hansen won a massive amount of money in a long FLO8 session. Hansen faced the likes of Isildur1, PostflopAction, OMGClayAiken, SallyWoo and cottonseed1, finishing the day as a $1.5 million winner. Hansen's name is obviously on the top of the winners list with $1.3mi in winnings. trex313 is a distant second, although he had great results and collected $648,771. durrrr had yet another good week and appears in third place with $303k. Bttech86 is not far behind as he won $292,313 over the last week. cottonseed1 rounds out the top 5 with $280k in winnings. Trueteller, wilhasha, mikki696, Sallywoo and HC_68 are the other players in the top 10.
On the other side, Isildur1 was the biggest loser, dropping $938,348 in the last week. He had tough losses against Hansen and durrrr. OMGClayAiken lost nearly $500k and appears in 2nd place. PostflopAction is a close third with $470k in losses. They were among the players who got crushed by Gus Hansen last week. KPR16 is 4th on the list as he lost $439k. FinddaGrind dropped $264k and completes the top 5. S3 TRX, J B E Z 2 E Z, Ingenious89, SanIker and kagome kagome complete the top 10 losers.
C
heck the full results below (sour...
read full article (4 comments)