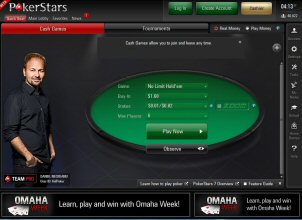 Almost a year ago we told you about completely new version of PokerStars software. Poker room already implemented a working version to the players some time ago, but left options open to the players: you could choose the 6.0 version and play unaffected by the change, or choose the new one.
However, the time has come and PokerStars decided to discount the older version of the software, as we can read
"With over 450,000 players using PokerStars 7 daily, our new software is now fully released, and we are moving to the next stage, where everyone will be using PokerStars 7. At the next software update, our older version (PokerStars 6) will be discontinued."
If you are already using PokerStars 7, the only impact for you is that the 'Revert to PokerStars 6' option will be removed from 'Settings'.
If not, please all players still running PokerStars 6 will automatically be upgraded to PokerStars 7 within few days.
Check this frequently Asked Questions about PokerStars 6 and this upgrade, prepared by the poker room:
Q: How can I get back to PokerStars 7 now to try it again?
A: From the menu at the top of your PokerStars 6 lobby, click 'Upgrade to PokerStars 7' on the right side of the menu bar. We recommend taking time now to get familiar with PokerStars 7 ...
read full article (0 comments)