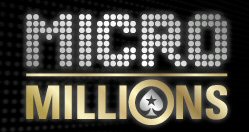 PokerStars today announced the MicroMillions 9 championship schedule, which is set to take place from November 6-16, featuring 100 events and $5 million in guaranteed prize money.
The world's most popular tournament series features buy-ins from just $0.11 up to the $22 No Limit Hold'em Main Event, which has a $1 million guarantee and takes place at 14.30 ET on November 16. For a full MicroMillions 9 championship schedule, go to
http://psta.rs/HwMQVF.
Online satellites are now available in the client from $0.11. Go to 'Main Lobby' > 'Online Events' > 'MicroMillions' for the range of qualifiers.
BUBBLE DASH
Making its MicroMillions debut this year is a recently-launched tournament format called 'Bubble Dash'. The format uses variable level timing to enable players to reach the cash relatively quickly (typically about 90 minutes until the bubble bursts). Blinds start at 3 minutes and gradually increase as the tournament progresses. Not only is it quick to cash, but the lengthening blinds provide more play when the big-money decisions are being made. There are three Bubble Dash tournaments on the schedule – events 10, 51, 88 – with buy-ins of $2.20, $2.20 ...
read full article (0 comments)