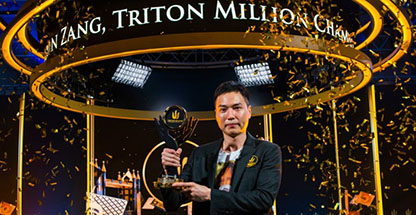 Aaron Zang is the Triton Million Helping Hand for Charity winner. This was the most expensive buy-in in the history of poker, worth £1,000,000 (~$1,220,000US). The Chinese recreational player took down the £19,000,000 ($23,100,000) first prize after a dramatic turnaround heads-up against Bryn Kenney.

There were 54 entries, which created a £54 million prize pool with a stunning £2.7 million going to charitable causes.

Very talented Aaron Zang also had a bit of luck, and that luck came down to the difference between first and second places was a staggering £7.33million! Kenney started the heads-up holding a 5.5-1 chip lead.
However, it took almost no time at all for Zang to get ahead of Kenney, and it took just two massive hands to seal Kenney's fate – a pair of coinflips both going against the American and then it was all over.

When Zang was presented with Triton Million trophy by Ttriton co-founder and his friend, Paul Phua, and was unable to contain his joy. "This feels like a dream come true!" said Zang with echoes of applause filling the arena.
Phua congratulated and reminded Zang about their cash games in Macau 9 years ago. "Aaron is not a tournament player normally; I hope this shows to all non-pros they can win. Aaron is good but I didn't think he was that good!" joked Phua.

Zang also said: "Bryn (Kenney) played better than me, but I always thought maybe the dream can come true. I am so happy and also very honored to have played against everyone."


Final table results
1 Aaron Zang £19,000,000
2 Bryn Kenney £11,670,000
3 Dan Smith £7,200,000
4 Stephen Chidwick £4,410,000
5 Vivek Rajkumar £3,000,000
6 Bill Perkins £2,200,000
7 Alfred DeCarolis £1,720,000
8 Timothy Adams £1,400,000
The Triton Poker Super High Roller Series in London is far from over, though, with the final table of the Turbo event finishing tomorrow and many other huge buy-in tournaments, including Short Deck events, still to come.