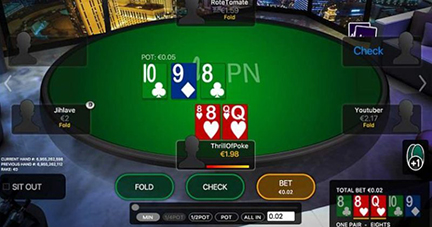 How to create a poker client that people will like? It has to be simple and clear and this is what MPN Poker Network is trying to fo with their latest software.

Software for rooms that belong to MPN (Betsson and others) have always been fast and efficient. It has been so for ten years and only minor changes were made in that time.

Poker director for MPN Alex Scott decided to reveal a few details about the new version of their client. Scott emphasises that in the past their software was available in a few versions and it was never easy for programmers to work on it as they wanted to optimize everything so that all client could be happy.

In time MPN started to exchange old software. They started from the mobile app and now it's time for the one which is available on PC.

Currently there are many options nobody uses. Slider for betting can be customized. Soft offes also different ways of viiewing hand histories. New version will have it all simplified.

– Our new client is to make the experience bette and simple, just as it was at the beginning. We kept all the things people use – loyalty levels, bonuses, achevements and got rid of all the junk – for instance 5 Card Stud, mini view and though it can be controversial chat as well – informs Scott.

The new soft will allow users to send their feedback and opinions. Scott says the new client has been shown during MPN Poker Tour iin Bratislava. Even there creators were gathering opinions and implemented further changes.

New poker client has been called "Prima" which is Italian for "first". MPN wants to get atop poker operators' ranking again, which is very ambitious of them.

The most impotant piece of information is its launch date. New software will be available at the end of July. Players will be able to use the old one as well for some time, but then it will be automatically updated.