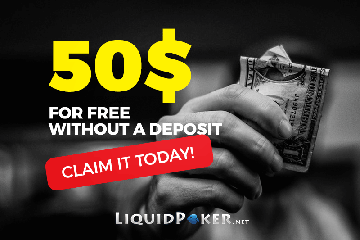 Are you looking for a reason to start playing poker online or to move to PartyPoker? Perhaps you already play and would like to show this great game to someone you like and care about? There won't be a better moment than now.

Free $50 for our players is waiting and you need no deposit to claim it! Golden times are back! Yep, thats right - 50$ free, NO DEPOSIT REQUIRED. LiquidPoker exclusive. All other promotions like maximum rakeback, free playstation 4 and extra LiquidPoker rakeback still apply

!

Until now most special offers at PartyPoker required making the first deposit. Our latest offer says goodbye to that condition! If you use it you will receive a total of 50 dollars bonus that includes:
$10 in cash totally for free
Power Series tournament tickets worth $40 (Feeder tickets worth $16.50, $11, $7.50, $3.30 and $2.20)

What requirements must be me then so you can get your $50 for free, that will activate all bonuses for new PartyPoker users? The rules are really simple:


The best thing?
Using this promo you are STILL eglible for ALL other promotions at PartyPoker from LiquidPoker:
- maximum 40% rakeback for first 4 weeks after you create your account, no matter how much you rake
- extra rakeback from LiquidPoker on top of that (all info here: EXTRA LIQUIDPOKER RAKEBACK
- free PlayStation 4 (info in same link as above with rakeback)

Don't wait - the promotion for free $50 is time limited and we might terminate it in any moment.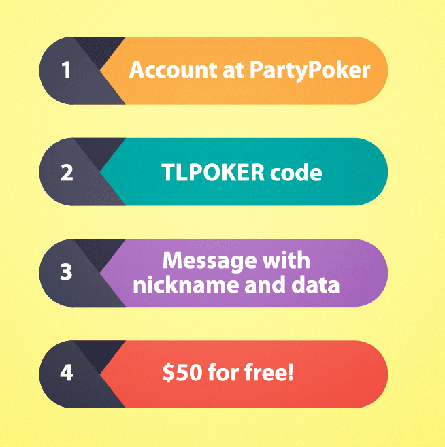 You can create an account at PartyPoker with LiquidPoker by clicking on the banner below! Grab your 100% up to $500, free PlayStation 4 and over 50% rakeback for grinders (more details: extra rakeback from LiquidPoker at PartyPoker)