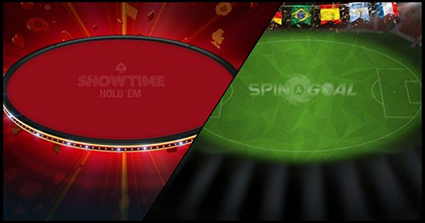 The biggest poker room online is lookin for ways to attract new players. Soon the platform will launch two new formats.

Previous months have not been so great for PokerStars. The company is criticized for cancelling EPT events and introducing PokerStars Championship (this year EPT returns). Raising rake was also met with players' protests.

Despite all the problems PokerStars still tries to widen its offer and rolls out new games. Several days ago they introduced Split Hold'em. It's basically just your ordinary Texas Hold'em, but players see two flops, turns and rivers, while the pot is split into two. To scoop both halves of the pot you must win on two boards. Currently games are available at limits from $0.02/0.05 to $10/20.

As it turns out, Split Hold'em is not the only novelty that PokerStars has prepared for its players. Portal Poker Industry Pro informed that PokerStars is working on new formats that soon will debut on the platform: Spin&Goal and Showtime. Alas, not many details have been revealed abot the mso far.

Information about the new games appeared on the Internet first April 6th. It was Anuj Arora, Poker Industry Pro affiliate who posted it. He tweeted that Spin&Goal will probably appear on PS around the time of this year's Football Championship in Russia.

What about Showtime Hold'em? Nick Jones (creator of Poker Industry Pro) wrote on Twitter that one of the rules in Showtime will be to show one hole card when the game gets to the flop. Poker journalist Barry Carter wrote also that: "Showtime will probably force players to reveal all cards on the showdwon even if the cards were mucked beforehand". It's worth noting that a few years ago 888poker introduced events dubbed ShowMe. The rule was simple: the winner had to show cards.

Will these formats work out? We will never know if we don't try. In the past PokerStars offered players Beat the Clock and Duel, but abandoned the ideas after some time. For some time now Pokerstars also has Power Up, which has been doing rather poorly.

One thing is sure. Split Hold'em, Showtime and Spin&Goal play well with the poker rooms' new strategy which puts emphasis on mobile devices. Severin Rasset, innovations director in PokerStars says that about 80% of new clients register via mobile devices.

If you don't have an account on Pokerstars yet and would like to start playing poker online and making money, you can create your account on PokerStars right away.