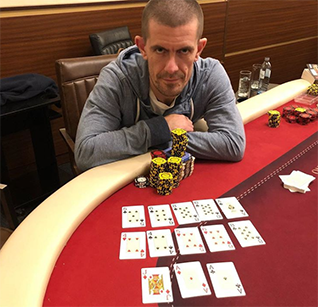 Joe Ingram has been inviting top players to his podcast and recently his guest was also Gus Hansen. Legendary poker player came back to the game. He plays online, visits Las Vegas and is active at social media. Now he decided to tell Joey all about it.

Coming back…
– Everybody knows I had a few worse years, especially online. Finally I decided to become a better poker player. I want to focus on live games and "make up for the past". This summer I will be spending two months in Vegas, mostly concentrating on cash games. Perhaps I will play some $50,000 tournaments and the Main Event.

This year I will be a frequent guest in Vegas. You will also see me in Barcelona at PartyPoker Live and EPT in Monaco. I don't know how many event I will play, but I will be there for sure.

The Big One for One Drop…
– I joined it the first time when it was an inaugural event [in 2012], but I'm gonna let it go this year. There will be many No Limit Hold'em experts and I will certainly find a better way to spend 1 million. Of course the prizes are nice there, but… Maybe I'll try one or two satellites, but I am not going to pay up so much for a ticket.

Favourite poker games…
– I love backgammon, as I am very good at it. As for poker I like the mixed set we have here in Bobby's Room. We play many formats. I would have to calculate it exactly, but I think I'm doing pretty well in Seven-Card Stud 8-or-Better and Omaha Hi-Lo. Maybe I am good, perhaps others are weaker, I don't know. Also like Triple Draw and Badugi. Still trying to improve at Pot-Limit Omaha, because it has never been my specialty. It's good to change games, not just play Texas Hold'em for like 10-12 hours.

Crazy image…
– I just can't seem to win a hand without a showdown, because people never believe me no matter how tight I play. During Aussie Millions Annette Obrestad was at my table, playing every hand for two hours. I was sitting with no action. Then I entered two pots and all players still thought she had better cards in 25 previous deals than I did in those two. Crazy. My image fortunately works both ways. When I have good cards it's nice to be Gus Hansen.

Improving game…
– Discipline has never been one of my advantages. Online and in Bobby's Room I could play long hours and then felt exhausted. Now I try to limit myself to 10-12 hours per day and I started practicing sports. I don't know though how much longer I can keep it this way, because I'm a sick fuck when it comes to poker. I am simply a degenerate, just like many other players. Some of them have to gamble every day. I can stay away from the table for two weeks, but then when I finally sit to play no one can drag me away from cards.

Social media…
– I will still be doing what I did, but I have to be careful as many guys want others to respect their privacy now. There are many players who stay in the shadows, but we all know Doyle Brunson and Dan "Jungleman" Cates, so you can see them on my profile. I also thought about writing a sequel to my book. Perhaps I will start during this year's World Series.