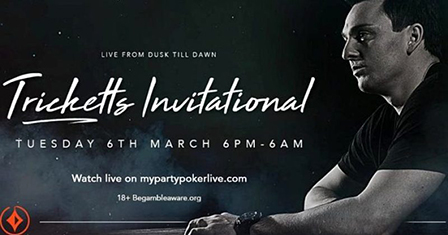 There have been many interesting cash games recently. Fans of No Limit Holdem and action at the poker table can add another one to their calendar. In a few days we will welcome Sam Trickett Intvitational!

It's not often that you see one million pounds in a live cash game. Exactly this much will be lying at the table at Sam Trickett Invitational, that is a cash game planned for March 6th. The programme will be aired by PartyPokerTV!

The cash game will take place in the iconic Dusk Till Dawn in Notthingham and will begin at 6:00 p.m. The buy-in is set at £125,000, with blinds £100/200. It looks like a great, deepstack show for cash game fans! Players will spend twelve hours at the table – the whole thing will finish on March 7th at 6:00 a.m.!

You can follow all their hands at PartyPokerTV. The host of the game will naturally be Sam Trickett from Team PartyPoker, one of the top British players, that has been playing high stakes for years. In 2012 he came second in Big One for One Drop, and today he is 12th on the All Time Money list. Trickett has even his special room in Dusk Till Dawn, where HS cash games take place. He regularly plays the highest stakes in Macau as well.

The cash game will of course include Rob Yong, the owner of Dusk Till Dawn, and it means there will be tons of action as he plays very dynamically. Also at the table we can expect Alex Goulder, local pro, who cashed for about 1 million in events.

Paul Byrne is yet another player. Businessman who loves poker. Good tournament results with $300,000 in cashes. Another one is a regular player from Dusk Till Dawn – Michael Zhang. You can remember him from the legendary PartyPoker Millions Germany – he won Super High Rollera and €800,000!

Paul Newey does not have to be introduced. He sold his company a few years back and became one of the richest Brits. He has a lot of high roller experience and it will be nice to have him in a cash game.

Three others are not so well-known. Luke Marsh is another pro who wants to gain some fame in Sam Trickett Invitational. Poker player from Scunthorpe has only about half a million dollars in his account from live events, so he is most likely a cash game specialist. The remaining two are Justin Seville& Joseph Huyn, of whom we don't know too much.

Sam Tricket Invitational begins March 6th, that is Tuesday at 6:00 p.m.!