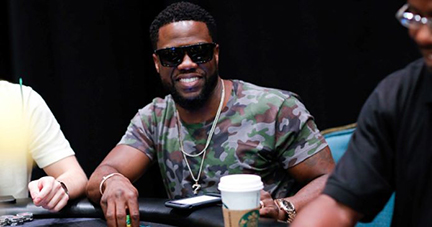 Well-known comedian and actor Kevin Hart last year played one of the weirdest hands in the history of televised cash games. Now the video was posted at Twitter by PokerStars. Check it at the end of the news.

The hand, which happened at the PokerStars Championship Cash Challenge Series, that is now being aired in the U.K., shows Hart calling an all-in bet on the river with just king-high. Fortunately for him, his rival, Mila Monroe, only had 6-high to show. Hart called opponent's bets on all streets, and even re-raised her on the river. This is when Monroe decided for a bluff by risking all her chips.

Hart claims to have misread his hand, which meant that he thought he had KJ of spades. If it really had been a jack then the actor would have hit his straight on the turn. He did even go into the tank on the river after the board paired, asking if Monroe had a full house, so he wasn't rather joking here.

Watch the hand here:


Anyhow, Hart won the pot that stood at nearly €40,000. After winning the pot he remarked, "King-high wins? I don't feel comfortable with that." And so, just like that, he returned €15,000 to Monroe, which the other players apparently had no problem with. According to rules, Monroe should have left the table or made a reload to keep playing if it wasn't for Kev.
"No borrow" Hart said, "I'm giving it back to you so I can take it one more time." – he added, smiling.