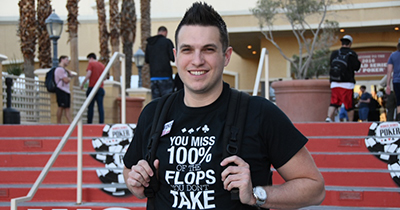 It has been a really busy week for Doug Polk. He gave away $14,438 to a lucky follower, he put a new video on his poker YouTube channel each day and launched a new YT channel about cryptocurrency.

First of all we should congratulate Daria "Rockabilly" Walsh for winning in Doug's most recent giveaway. Unlike previous ones, though, this time Doug decided to only have a single winner, which means Daria will keep the entire $14,438 (minus the tax) all to herself.

If you'd like to be involved in such a giveaway, stay tuned to Doug's poker YouTube channel for the next one.

Now, a little bit about cryptocurrencies. Unless you've been living under a rock for the past year or so, you've probably heard about how the price of bitcoin (BTC) has recently gone up massively (from $6,000 to over $16,000 since November).

It's not the first time for bitcoin tu surprise us like that, but it's the first time the cryptocurrency has managed to break the five-figure mark. As you'd expect, it's stirred a lot of general interest in bitcoin and cryptocurrencies, with many people with no experience in the market now also wanting to get involved.

Doug will be informing us all about cryptocurrencies and give information and pointers to those looking to get in on the crypto market. His new channel, Doug Polk Crypto, will be putting out crypto videos almomst every day, so make sure to subscribe.

The channel is naturally closely linked to the cryptocurrency news website Coin Central, which was co-founded by Doug, so they will likely cover similar subjects. The format will be much the same as Doug Polk Poker, thus we can expect Doug himself to talk about crypto topics and making a few jokes from time to time.