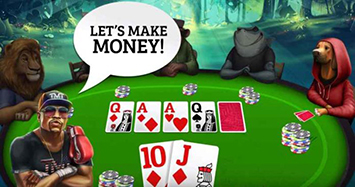 Floyd "Money" Mayweather is going to earn some money. Neither in the ring nor at the poker table, but thanks to poker. He signed a deal with social casino games developer Playtrex and mobile games publisher Hero Digital Entertainment to be the presenter and a character of a play-money poker application named "Wild Poker."

The "social casino adventure game" as the ycall Wild Poker offers no-limit Texas hold'em with a nice animal twist, and players can choose between characters including sharks, dogs and cats with special skills or play as Floyd Mayweather himself. Retired boxer with an undefeated 50 wins – 0 defeats record is rumored to be getting around six-figure sum and he is to get a bonus based on how well the app does.

According to press release, Mayweather is excited to put his face on the innovative casino poker application.
"As soon as I saw Wild Poker, I knew I wanted to become part of it. I'm constantly asked to put my name on stuff, but Wild Poker is different than any game I've ever seen. It's poker, but it goes to the next level. There's a whole new level of strategy with the power ups. It's a cutting edge game, this is that next thing, and like everything I put my name on, Wild Poker is the best ever."

Hero Digital Entertainment CEO, Ed Mills said his company is ecstatic to attach one of the world's most recognizable athletes to Wild Poker.

Playtrex CEO Daniel Kashmir also explained the decision behind signing Floyd Mayweather. Our mission with Wild Poker is to evolve the social casino genre to make it more fun and appealing to all types of players. By adding Floyd as a presenter within the game, it shows that we are committed to providing game experiences that can't be found in any other social casino game.

What does the application Wild Poker offer?
Well, Wild Poker certainly won't give you a chance to play real money games, but you can purchase in-app upgrades to give your characters advantages at the table. There are some of the RPG (role-playing game) elements, too including real-time decision-making, power-ups and character development process. As you progress you also unlock new characters and features.

The "special skills" include for instance the shark's sharp sense of smell to detect fear of a bluffing opponent and the giraffe's elongated neck to see over other players' shoulders — nice and funny spin on the traditional games of no-limit hold'em.