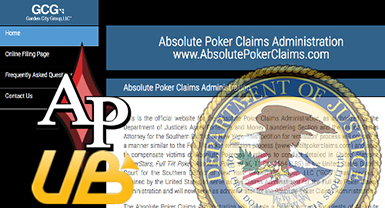 It's been over six years ago when Black Friday happened and now players are getting a happy surprise - DOJ announced over a month ago that it will be returning players money that was lost during Absolute Poker/UltimateBet seizure. So far over 7,400 petitions totaling $33.5m have been approved for reimbusement with GCG and now first players have already received their lost money.

GCG informed: "First wave of repayments were sent out to the Absolute poker and Ultimate Bet players last week."

The announcement was made after the reimbursements to Full Tilt Players were done - since DOJ still had $45,000,000 in unclaimed funds. This money has now been made available for AP/UB claimants from both inside and outside of the USA.

It is estimated that the payment process will take more than a year to finish with the first wave of repayments last week totaling to almost $33,5 million. The affected players should have been contacted via email by now, but Garden City Group still continues to accept and process petitions on their website.