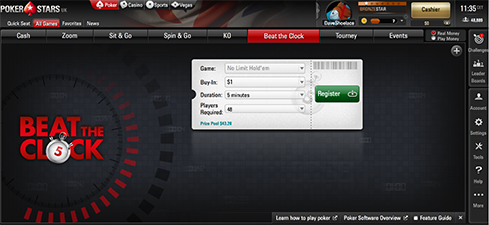 It took even less than a year for PokerStars to decided that it's original "Beat The Clock" tournaments were not really succesfull. PokerStars decided to remove the format from their platform.

According to PokerStars, the move to stop the clock games is designed to cater for the ever evolving requirements of the modern day online poker player and allow them to concentrate on new formats.

Their statement reads:
"We [PokerStars] will be making some changes to the client which will involve the removal of Beat The Clock. PokerStars has decided to shelve the timed Sit & Go format to make way for new products that we wish to feature more prominently within the client. This decision has also in part been dictated by the need to cater to evolving player tastes, which inevitably change over time."

Beat the clock were five minute long Sit & Go Zoom games, launched less then one year ago in November of 2016 following a successful trial in the Russian market. The tournaments would run for five minutes with all of the remaining players left in the game after that period paid out according to their stack size.