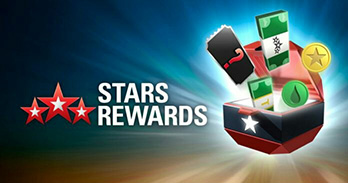 This is something that was long anticipated and feared: PokerStars unveiled new details regarding their completely new bonus program for players. As just few days ago we revealed 888 plans for nearby future, and PartyPokers completely new and improved cashback program with direct rakeback, PokerStars unfortunately looks very pale in regards to competition. We will let you judge, here are details that are known so far.

PokerStars promises: "The new program offers an exciting gaming experience which rewards players for their play across poker, casino and sports (where available) and promises personalized rewards tailored to the games they play, as well as the chance to win top prizes including $1,000 cash, 1,000,000 StarsCoin, or, for sports bettors, big bets for upcoming matches.
Stars Rewards gives you Chests that offer a variety of rewards, all personalised to the games that you like to play. You can open Chests as soon as you earn them - or collect them and open when it best suits you. Every Chest offers you the chance at winning a huge prize, no matter what type of player you are."

PokerStars will be launching a pilot of its new Stars Rewards program in Denmark next week and globally in the nearby future.

Here is a Stars Rewards Overview directly from PokerStars:
• Excitement: Stars Rewards is designed to create excitement with a variety of rewards with randomized values. The more you play, the bigger the Chests.
• Big top prizes: Every time you open a Chest there's a chance that you win a big top prize. It might be $1,000 in cold hard cash, 1,000,000 StarsCoin, or a PokerStars Championship package worth thousands of dollars or, if you are a sports bettor, a big bet for an upcoming match. The top prizes will be changing on an ongoing basis, but every Chest for every player gives you the chance at a big prize.
• [b]Personalised rewards: Chests will offer a variety of rewards including StarsCoin, free sports bets, tournament tickets, casino instant bonuses, and more, all personalised to reflect your gameplay. For example, a tournament player will predominantly receive tournament money or tournament tickets, whereas a sports-bettor would receive free bets. You will also earn StarsCoin from Chests, and will continue to be able to redeem them in the store at the same rate for cash rebates, tickets, merchandise, and more.
• Fasttrack your progress: You will be able to double the speed you make progress for a short period each session you play via 'boosts', designed to reward players who play more frequently and play in consecutive days.

PokerStars will be launching Stars Rewards first in Denmark later this month, with Italy planned shortly thereafter, and most other markets planned for later this summer. We will notify players via email when we are close to launching in each market.