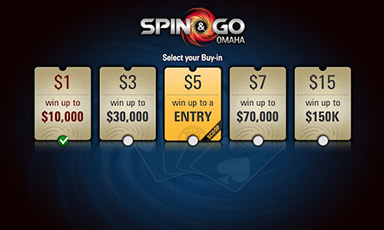 Well - if there were any doubts on what is the most variance heavy game available online, there is no doubts anymore. PokerStars just today introduced a four card version of lottery SNGs: Pot-Limit Omaha spin&go'es are here.

Spin & Go format has seen insane popularity over last year to the point where other poker rooms are copying the PokerStars-original format with smaller or bigger changes.

At the moment there are four regular buy-in levels, which mirror their equivalent Hold'em level in terms of maximum multipliers:
$1 PLO Spins have a $10,000 maximum prize,
$3 PLO Spins have a $30,000 maximum prize,
$7 PLO Spins have a 70,000 maximum prize,
and the biggest buy-in level of $15 will have a maximum prizepool of $150,000.

There is also a $5 Spin & Go buy-in exclusively for tickets to the upcoming SCOOP festival for Even t#5 ($27, $215 and $2,100 PLO).

If you don't have an account on Pokerstars yet and would like to start playing poker online and making money, you can create your account on PokerStars right away.