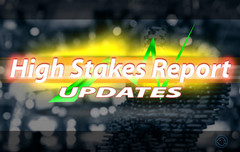 Brian '$tinger 88' Hastings tops this week's winners list with a solid $382,261 score. Hastings had two six-figure days over the past week, mostly playing $50/$100 PLO. After having a losing day on Monday (May 14), Hastings went on a dominant streak on the following days and won a combined $438k, most of it off the hands of Phisherman36. Ilari 'Ziigmund' Sahamies appears on the winners list after a long downswing. He's won $231,788 between May 14-20 and figures in 2nd place. 10IsTheYear is 3rd on the list with $190k in winnings. LuckyGump, Genius28, altiFC, glosik, EireAbu, patpatman and longerpig complete the list.

0Human0 tops the losers list with $307,360 in losses. He's followed by Phisherman36, who, as we mentioned, had a tough match against $tinger 88. Phisherman36 ended the week $261k in the red. Zypherin appears in 3rd place after he lost $176,808 in cash games. Isildur1 once again appears on the losers list, this time in 4th place. He's also among the top 10 losers on the month. Kanu7, Deldar182, Eunjong Byun, w00ki3z., Altrum Altus and !P0krparty¡ complete the losers list.

Check the full results below (source: HighStakesDB.com)

Galfond's Poker Story

Phil 'MrSweets28' Galfond, who is often mentioned in our weekly report, has wrote a lengthy blog post on his story with poker. The post goes all the way back to his college days and gives a lot of insight to his poker career that some of you may relate to. It's a great piece and definitely worthy of your time. Read Galfond's story on his personal blog.


Player / Sessions / Hands / Score (5/7 - 5/13)

Green

1. $tinger 88 / 24 / 2188 / $382,261
2. Ilari FIN / 34 / 4035 / $231,788
3. 10IsTheYear / 61 / 3207 / $190,010
4. LuckyGump / 86 / 5929 / $180,803
5. Genius28 / 66 / 5933 / $163,967
6. altiFC / 37 / 2058 / $140,288
7. glosik / 91 / 3940 / $134,900
8. EireAbu / 127 / 9233 / $133,021
9. patpatman / 32 / 3776 / $132,757
10. longerpig / 58 / 3770 / $129,488

Red

1. 0Human0 / 192 / 8633 / $307,360
2. Phisherman36 / 123 / 13560 / $261,112
3. Zypherin / 30 / 6040 / $176,808
4. Isildur1 / 104 / 3425 / $158,183
5. Kanu7 / 27 / 1918 / $142,843
6. Deldar182 / 129 / 6262 / $127,426
7. Eunjong Byun / 21 / 1025 / $123,458
8. w00ki3z. / 24 / 2130 / $122,938
9. Altrum Altus / 40 / 3136 / $106,293
10. !P0krparty¡ / 84 / 5522 / $105,034


May (5/1 - 5/20)

Winners

1. patpatman / 69 / 6034 / $565,153
2. Sauce123 / 143 / 17354 / $532,573
3. $tinger 88 / 56 / 3929 / $480,239
4. Terken89 / 339 / 17096 / $374,474
5. EireAbu / 343 / 32100 / $340,178
6. Genius28 / 225 / 15703 / $324,319
7. glosik / 342 / 20636 / $246,919
8. sat1337en / 132 / 7151 / $195,301
9. altiFC / 67 / 3888 / $191,287
10. Deldar182 / 427 / 17571 / $190,602

Losers

1. Ben86 / 184 / 13098 / $365,362
2. w00ki3z. / 80 / 8924 / $321,641
3. doncarignano / 211 / 8659 / $294,549
4. toweliestar / 207 / 15822 / $269,171
5. Zypherin / 43 / 11067 / $263,190
6. nutsinho / 171 / 11107 / $261,294
7. Isildur1 / 231 / 9646 / $218,037
8. Tsubi87 / 245 / 16231 / $216,541
9. Hörhö / 122 / 5574 / $173,508
10. Sira Al Aziz / 209 / 8445 / $157,502