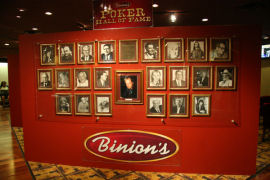 In September, the WSOP released the list of 10 nominees for the Poker Hall of Fame 2012 induction, as a result of a public vote. The finalists were considered by 18 living members of the Poker Hall of Fame and 18 members of the poker media. In the end, they decided that Eric Drache and Brian 'Sailor' Roberts will become the 43rd and 44th individuals to be inducted into the Hall of Fame. They will be officially inducted on October 30, right before the end of the 2012 WSOP Main Event.

Brian Roberts is mostly known as the 1975 WSOP Main Event champion, while Eric Drache was the tournament director of the WSOP in the 1970s and came up with the idea of satellite tournaments.

"I'm not only surprised and honored to have been selected, I'm also a bit embarrassed considering the other nominees. When Jack Binion and myself worked on creating the Hall of Fame, I never considered myself a potential candidate. I'm particularly happy for the family of Sailor Roberts. Sailor, by everyone's account, including my own personal observations, was a great player and played many games very well," Drache told Caesars officials in a press release.

The official release had some kind words about Roberts, who passed away 17 years ago:

"To anyone who knew him, Brian "Sailor" Roberts was truly one of the 'good guys' of the game. Along with his poker skill, Roberts' wit, charm and reputable integrity served him well in cementing his place as one of poker's legends. A gambler at his very core, the 1975 WSOP Main Event champion grew up in the small town of San Angelo, TX where at age 12 he made his first winnings shooting dice while working as a caddie. After serving in the Navy during the Korean War, Roberts returned home to Texas, where he met Doyle Brunson and Amarillo Slim. The three travelled throughout the south and Midwest in search of poker games and became known as the famous "Texas Rounders," whose exploits have been romanticized over the years in both film and literature. A pillar of poker's old guard, Roberts was beloved by his fellow gamblers. The two-time WSOP champion also finished eighth in the 1982 WSOP Main Event won by fellow Hall of Famer Jack "Treetop" Strauss. Roberts passed away in 1995."

Those considered for the Hall this year, but did not get enough votes, were Chris Bjorin, David Chiu, Thor Hansen, George Hardie, Jennifer Harman, John Juanda, Tom McEvoy, and Scotty Nguyen. They continue to be eligible for future nominations. The Poker Hall of Fame was established in 1979 and only 19 out of the 44 members are still alive. Some of the members are legends such as Doyle Brunson, Johnny Chan, Phil Hellmuth, Erik Seidel and Barry Greenstein.