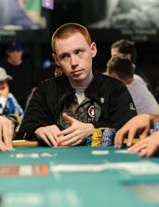 WSOP: Mig finishes $1,500 Pot-Limit Hold'em in #11

Our own James 'Mig.com' Mackey came close to making his third WSOP final table, but an unexpected pair of Aces eliminated him in 11th place, preventing him from playing the final table. The poker gods were cruel to Mig, as there were just three more hands to be played before they were done for the night. Holding Jacks, mig shoved all-in after Jonathan Aguiar raised from the BB. To everyone's surprise, Aguiar showed a pair of Aces. No Jacks on the board and Mig walked away from the tournament with $11,361. Daniel Negreanu was one of the finalists in this event. He finished in 5th place for $41,683.

On the final day, Nick Jivkov from Bulgaria defeated Bryan Pellegrino heads-up and won his first WSOP bracelet and the $189,818 first prize.



Spanish online poker rooms go live

The recently regulated Spanish poker market has finally gone live on June 6th. The transition from global to Spain was smooth, according to reports. Just prior to the transition, there were still a lot of doubts on how it would unfold, as the Spanish Gaming Commission was reluctant to accept automatic account migrations, in what was seen as an attempt to aid local gaming interests. In the end, the account migrations happened and players with existing accounts were able to play with the same balance as they always played in the international sites.

PokerStars.es went live around 9am in Spain, and Spanish players were transitioned to ps.Es, along with their balances and VIP points. For some reason, Zoom is still not present in the client, but it should be available soon. As expected, bwin.es is now a skin of PartyPoker, which means the players in both rooms are sharing the player pool. Ongame, Microgamin and 888 poker have also started operating in Spain.