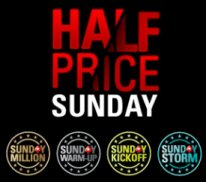 This is something new! The buy-ins for several major PokerStars tournaments are being cut in half on Sunday, June 17, including the most affordable Sunday Million PokerStars have ever run. The huge prize pool guarantees stay fixed though, so you get to play for a share of millions in cash prizes for less than ever before!

The cut-price line-up includes the biggest tournaments anywhere online, including the Sunday Million ($1,000,000 GTD), Sunday Warm-Up ($500,000 GTD) and the Sunday Storm ($300,000 GTD), giving you great value on our biggest tournament day of the week, and you can register now.

Half Price Sunday - Tournament Schedule
The following tourneys will have half-price buy-ins on Sunday, June 17:
Tournament Time Cut Price Buy-In Guarantee
Sunday Kickoff 08:00 ET $54.50 $100,000
Sunday Warm-Up 11:00 ET $107.50 $500,000
Sunday Storm 13:30 ET $5.50 $300,000
Sunday Million 14:30 ET $107.50 $1,000,000
Women's Sunday 14:30 ET $27.50 $10,000
To find the tournaments and register, open the PokerStars lobby and go to 'Tourney' & 'Special'. You can also win your seat for any of the tournaments with a huge range of satellites running in the lead up to each one.

Please Note: Regular Sunday Major tournament tickets cannot be redeemed for entry into the Half Price Sunday events. There will be limited support for splitting existing ticket values of $11, $109 & $215. Contact Support if you would like further information.