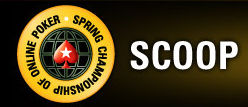 PokerStars has set a new record for hosting the richest online poker tournament series ever with the Spring Championship of Online Poker (SCOOP) 2012. With registration for all events sumed up, the total payout to players for SCOOP was $65,332,179 across 40 events (120 tournaments), beating the previous record of $64,230,010, which was set during SCOOP 2010.

SCOOP 2012 also broke the record for the highest participation ever in a PokerStars 'Championship of Online Poker' series (SCOOP, WCOOP, TCOOP), with a total of 526,154 entries, easily surpassing the previous best of 461,936 in SCOOP 2010. The inaugural PokerStars MicroMillions tournament festival, which took place in March this year, holds the all-time record with a total of 1,294,883 entries.

The fact that this year's figures have now eclipsed the amount of participants and prize money awarded from before the US market exit, shows the continued growth of poker throughout the world, with 156 countries represented in SCOOP 2012.

Winner of the $10,300 Main Event (High) was Nick 'GripDsNutz' Grippo from Costa Rica, who defeated Canada's 'sp00led' heads-up to take the adjusted first-prize of $798,675 and winner's watch, following a three-way deal. Second-placed 'sp00led' and third-placed 'sosickPL' both received $718,675 each. The event featured 517 players and a prize pool of $5,170,000.

In the $1,050 Main Event (Med) 'suarez_BG' from Bulgaria came back from a huge chip deficit heads-up to win the first prize of $560,019. He outlasted 3,566 other players, including his final opponent 'ministerborg' of Denmark, who himself had already snagged one title in the SCOOP 21-H event earlier in the series. The Dane added $417,339 to his winnings yesterday.

Meanwhile, the $109 Low event was taken down by 'john_tri80' from Greece, who topped a field of 22,128 players to net the first prize of $198,725.75 after a deal was done with his heads-up opponent, 'FrandsenDK', who received $187,000. The total prize pool for the tournament was $2,212,800.