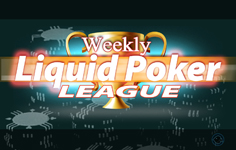 Here's yet another post about our community tournaments! The Weekly LiquidPoker League is back yet again, however as our series of 5 weekly $100 freerolls finished, those will be going on a short break that will last one more week - don't worry, we are going to start them again next week! Below you can find more info about our weekly league tournament!

1. LiquidPoker weekly league
There will be 8 tournaments in total, one each Sunday, from April 8th to May 27th. Each tournament starts at 20:00 CET (14:00 ET), and has a small buy-in of $3,30. These tournaments have an added prize pool, where the top 5 players will earn extra tournament tickets:
1st place will walk away with a $22 tournament ticket
2nd and 3rd places with an $11 ticket
and places 4-5 with a $5,5 ticket.
Please note: rest of the prize pool will be distributed accordingly as a cash. Tickets have to be assigned manually, hence it can take up to 48h after the tournament is done (should be done faster though)
All you need to play the tournament is a password that will be posted ----under this link---- 15-20 minutes before the tournament starts (please note: you can use your login from any LiquidPoker sub-site to login on the main site).
Password will be visible only to people who registered in our site at least 60 days ago. Unfortunately Russia and Ukraine are prohibited from participation in our weekly tournaments.

Every weekly tournaments final table will be covered with a short news on our site!

This week's tournament info:
Tournament name and date/time: LiquidPoker weekly league, Sunday, 20:00 CET(14:00ET)
Tournament ID: 548619323(tournament can be found in 'private' tab)

General ladder results after all tournaments are available here: http://www.liquidpoker.net/special/weeklyladder


We hope you enjoy the tournament! Good luck!